4-Level Search Program for Detecting Hammies with E-Trac & CTX 3030, page 4
3. Search Program Level 1: Discrimination and QuickMask Patterns
(...CONTINUED from Previous Page)
E-Trac & CTX 3030 Discrimination Pattern
NOTE: The Smartfind window on the E-Trac Pattern Screens shown below is identical to the Smartfind 2 window on the CTX-3030 Detect Screen which has the same FE-CO coordinates system.
To meet this program's objectives, I recommend to use the following Discrimination pattern:
Minelab E-Trac Discrimination Pattern for "Small Hammered Coins" Search Program Level 1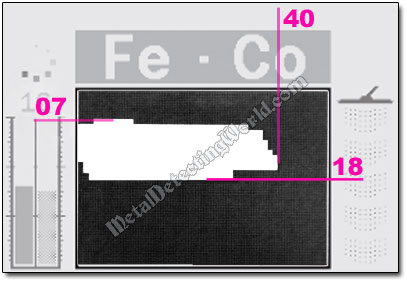 This Discrimination pattern resulted from scanning all types of the silver wire hammered coins in the E-Trac's Auto Accept Mode during Air Testing. Later this pattern was tested under real metal detecting conditions, and only minuscule adjustments were made to it to make sure that all easy-detectable hammereds are not passed up.
Accepting Area (White) for All Types of Hammered Wire Coins Scanned in Auto Accept Mode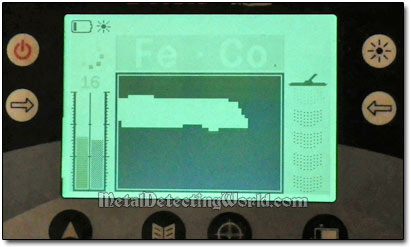 This Discrimination pattern can be successfully used with the Minelab CTX 3030 and, unlike with the E-Trac, will allow an operator to detect even partially masked coins because the Target Trace feature combined with the Ferrous-Coin Target Separation mode will exhibit VISUAL indication for both a coin and a small iron nail on the CTX 3030's screen simultaneously. In other words, if the coin's FE-CO values "land" into a rejected area between the FE-18 and FE-24 lines, at least the coin's crosshair will show up in that area while the nail's crosshair will appear in the low right corner of the Smartfind 2 screen.
On the E-Trac's Smartfind window, the crosshair will be bouncing back and forth between the above-mentioned locations, and no audio response may be produced besides the Threshold nulling. If you wish to receive questionable signals, you will need to switch to Level-2, Level-3 or Level-4 program settings. With the Level-1 Discrimination pattern, the E-Trac's audio responses will not include iron- and ground-falsing as well as other types of false signals. And implementing a lot of Discrimination will compromise the detector's Depth Penetration.
Even though the same Discrimination pattern is utilized on the CTX 3030, its Tone ID Profile can be modified for specific ranges of conductivity in a different User Mode (make sure it has the Level-3 program settings). You can set up '2-tone CO' or '4-tone CO' ID Profile and resize tone bins any way you want, and assign any tone pitch to each bin.
E-Trac's QuickMask Pattern (CTX 3030's 2nd Pattern)
The E-Trac's QuickMask pattern rejects most of nails to provide some audio comfort for a beginner. If the pattern was more "open", the detector's responses to questionable signals (coin + nail) would be too confusing for an inexperienced detectorist and reduce the time efficiency in the field. However, if you are used to the Multi-tone audio responses at the iron infested site, you may want to switch to the QuickMask patterns used for search programs of subsequent levels, which have less Discrimination.
E-Trac's QuickMask Pattern for Program Settings of Level 1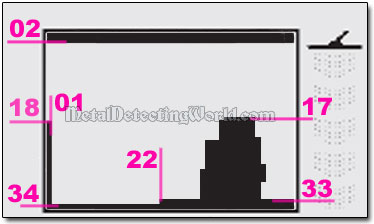 This E-Trac's QuickMask pattern can be effectively used as the Second Discrimination pattern for the CTX 3030's program settings of Level 1. Even though the same Discrimination pattern is utilized on the CTX 3030, its Tone ID Profile can be also modified for specific ranges of conductivity in another User Mode (make sure it has the Level-3 program settings). You should experiment with different Tone ID Profiles and see which one is the most comfortable for you. You can edit the Tone ID Map either on the CTX's Control Panel or in the XChange 2 application on your PC or laptop (for more details, please refer to my Tutorial - "How To Use Minelab XChange 2 for EDITING").
To create my Discrimination Patterns, I used the Manual Edit Mode (page 46 of the E-Trac Instruction Manual, page of the CTX-3030 Instruction Manual).
If you would like to recommend this search program to other Minelab E-Trac and CTX-3030 users, please click the button:
Number of pages: < Previous | 1 | 2 | 3 | 4 | 5 | 6 | 7 | 8 | 9 | 10 | 11 | 12 | 13 | 14 | 15 | Next >
E-Trac & CTX-3030 Programs - Index page | Minelab E-Trac Field-Test | Metal Detector Reviews Worldwide | Useful Articles page

Home