4-Level Search Program for Detecting Hammies with E-Trac & CTX 3030, page 9
5. Level-2 Program Settings: Discrimination & QuickMask Patterns
(...CONTINUED from Previous Page)
E-Trac & CTX 3030 Discrimination Pattern
NOTE: The Smartfind window on the E-Trac Pattern Screens shown below is identical to the Smartfind 2 window on the CTX-3030 Detect Screen which has the same FE-CO coordinates system.
The Level-2 search program settings can be effectively used with the following Discrimination pattern:
Minelab E-Trac Discrimination Pattern for Search Program #4 - Level 2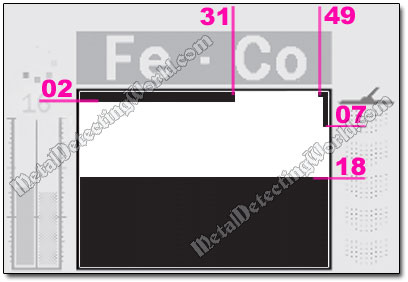 In this Discrimination pattern, most of the Conductivity zone (above the FE-17 line) is open with exception of two narrow strips which do not allow a metal detector to respond to iron falsing caused by the "Wrap Around Effect" (see description of this effect in my "E-Trac Field-Test Report" page 2). An accepted segment on the FE-01 line - a white gap extending from CO-32 to CO-48 inclusively, allows for detection of large silver and copper coins.
With this Discrimination pattern, all high-conductive coins and artifacts will be detected as well as all kinds of non-ferrous trash. All iron will be rejected and so will be the coins that are partially masked by it. Large iron objects will cause the detector to respond with high-ptched false signals due to Halo Effects that have been developed around the iron objects over long time. The detector's depth penetration will be increased due to a slightly reduced level of Discrimination.
Used with the CTX 3030's program settings, this Discrimination pattern allows an operator to detect a few partially masked coins at depths because the Target Trace feature combined with the Ferrous-Coin Target Separation mode will exhibit VISUAL indication for both a coin and a small iron nail on the CTX 3030's screen simultaneously.
When the partially masked coin's FE-CO values "land" into a rejected area between the FE-18 and FE-24 lines (in the upper left part of the rejected iron area), and you hear a broken high-pitched signal caused by iron falsing, pay attention to the Target Trace on the screen. If the trace runs from the lower-right corner of the iron zone (below the FE-17 line) to the above-mentioned area, it may well be a masked hammered coin. It is important to observe the CTX 3030's screen as frequently as possible while metal detecting because the CTX 3030 is a VISUAL metal detector.
Minelab CTX-3030 Discrimination Pattern for Level-2 Settings with "50-tone CO" Tone ID Profile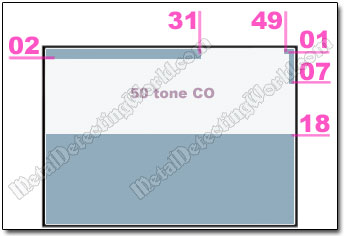 E-Trac's QuickMask Pattern (CTX 3030's 2nd Pattern)
The E-Trac's QuickMask pattern for Level-2 program settings is more "open" than the Level-1 QuickMask pattern because the trash content is moderate. Now an operator will see and hear the detector's various responses to "questionable" targets (non-ferrous target + nail). Close attention should be paid to the upper left part of the iron area (below the FE-17 line).
E-Trac's QuickMask Pattern for "Small Hammered Coins" Search Program #4 - Level 2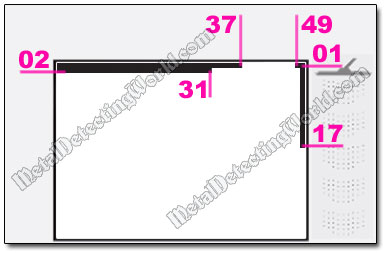 This E-Trac's QuickMask pattern can be effectively used as the Second Discrimination pattern for the CTX 3030's Level-2 program settings. The CTX 3030's Tone ID Profile for this Discrimination pattern can be modified for specific ranges of conductivity in a different User Mode (make sure it has the Level-3 program settings). You can set up '2-tone FE' or '4-tone FE' ID Profile and resize tone bins any way you want, and assign any tone pitch to each bin. For example, in '2-tone FE', you can assign a low-tone pitch for all IRON, and a high-tone pitch for all non-ferrous targets.
You can edit the Tone ID Map either on the CTX's Control Panel or in the XChange 2 application on your PC or laptop (for more details, please refer to my Tutorial - "How To Use Minelab XChange 2 for EDITING").
To create my Discrimination Patterns, I used the Manual Edit Mode (page 46 of the E-Trac Instruction Manual, page of the CTX-3030 Instruction Manual).
If you would like to recommend this search program to other Minelab E-Trac and CTX-3030 users, please click the button:
Number of pages: < Previous | 1 | 2 | 3 | 4 | 5 | 6 | 7 | 8 | 9 | 10 | 11 | 12 | 13 | 14 | 15 | Next >
E-Trac & CTX-3030 Programs - Index page | Minelab E-Trac Field-Test | Metal Detector Reviews Worldwide | Useful Articles page

Home