Finding Great Patriotic War Token at Picnic Grove in Upstate New York
Deplete a "Fruitful" Site of the Good Finds Before Someone Else Discovers It!
In the spring and summer of next year, Shelly and I traveled to Russia. After we came back to the US, we had many projects and responsibilities that kept us away from the Picnic Grove site until next spring.
By that time, I completely forgot about this fruitful location as I was busy treasure hunting at other interesting metal detecting sites.
I was reminded of the picnic grove by the news coverage of a new construction project - development of a huge Industrial Park, that was taking place in the Green Island's wooded area.
Oops! As soon as I digested the disturbing news, I got in my truck and drove to the location.
When I got there, the construction workers had already finished their shift and left for home. I was stunned to see the changes that had occurred since my last visit: most of the forest had been cut down and logged out, and a couple of warehouses were being erected at the cleared space.
But there was something else in the picture. I noticed two vehicles parked next to each other. And two guys were metal detecting! Darn! I came over to one of them and introduced myself. That was how I met Tim Myers. Later his buddy Primo came over.
As I found out, Tim's grandmother told him about the Picnic Grove, and how she and her girlfriends used to come there to party. Even the president Franklin D. Roosevelt visited these Picnic Grounds one time.
While talking to Tim, I had the same question that had been popping up in my head since I discovered the site: why the picnic grove was not marked on any old map that I knew of? Tim informed me that he and Primo had already recovered 350 coins since the forest was cut down and the scrapers removed upper four inches of the soil.
For the next two months, I was metal detecting at the site almost every day, especially at those spots that I could not search before due to the presence of thick vegetation. The removal of the upper four inches of soil by scrapers resulted in recovering of more coins. This time, I called my treasure hunting buddies, Peter and Rodney, again and insisted that they would come over and search the site with me. That way, we could cover more territory within a short period of time. And we were running out of time!
As usual, Peter could not come, but Rodney responded with great enthusiasm and arrived with his Minelab Explorer on the next day. We spent the entire day "pounding" one particular area where many Indian Head Cents had been recovered before. Among other coins found at the spot, each of us dug up quite a few Indian Head pennies.
My Share of Indian Head Cents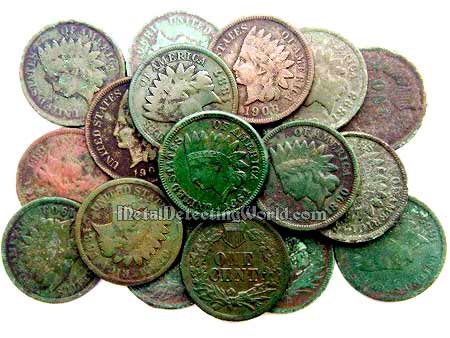 To my surprise a few days later, when I was rinsing the dirt off the recovered coins and checking their dates against the key dates in the Red Book of US Coins, I discovered a rare 1877 Indian Head Penny among the coin finds! I was glad that I had the Red Book at hand.
Rare 1877 Indian Head Penny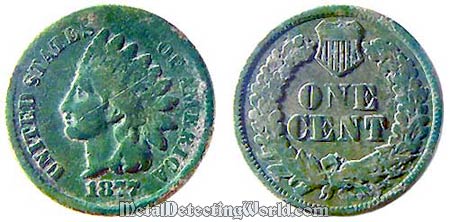 One day, Shelly felt like metal detecting at the picnic grove again. But she did not have her favorite Spectrum XLT any more as it was replaced by another Explorer XS. She was not fond of Explorer as she had difficulty in pinpointing the targets.
So I armed her with my Tesoro Cortes which I won at the C.A.S.H. Bash competition in 2002. Fortunately, Cortes, was very light in weight and simple to use. Actually I was interested to see how the Cortes would perform on the spot which had been hunted out by two Explorers and one Whites DFX.
Upon our arrival, Shelly began metal detecting with Tesoro, and I was about to be surprised. In five minutes, she called me over. I came to the hole she had just dug and could not believe what I saw in it - a nice 1863 Great Patriotic War Grocers token! That was when Tesoro earned my total respect: being a great detector not only for relic hunting, but also for other metal detecting applications.
1863 Robinson & Ballou Grocers, Troy, N. Y., Token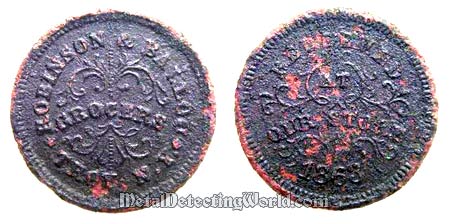 Number of pages: < Previous | 1 | 2 | 3 | 4 | 5 | 6 | Next >