Metal Detecting at Picnic Grounds in Upstate New York
As the Iron Homestead Junk is Almost Absent at the Picnic Grove Site, a Metal Detector Should Be Set On Minimum Discrimination
Not far away from where I recovered the King George copper, I dug up a nice 1917 Standing Liberty silver quarter.
1917 Standing Liberty Quarter, Variety 2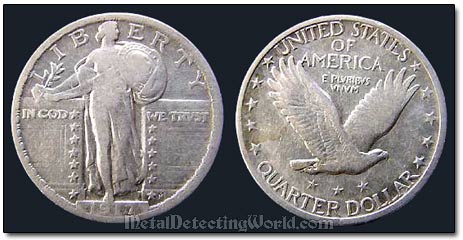 I started thinking about the site and wondering what was going on here for at least 173 years. I got the answer quickly as soon as we began digging up numerous personal items such as coat buttons, rings, keys, old bottle caps and pull-tabs, broken bottles, old and modern, and other items that people would lose while camping or having a picnic!
That was it! We had discovered a site of an old picnic grove! And the site was situated right in the middle of the highly populated area. I could not believe that nobody had ever metal detected here! Shelly and I chose a different spot and resumed our search. Soon Shelly's arm got tired swinging Explorer and she offered to exchange our metal detectors. I knew she would feel more comfortable with her Spectrum XLT. Right after she got her favorite machine back, Shelly found her first Large Cent!
1842 Large Cent, Coronet Type, Young Petite Head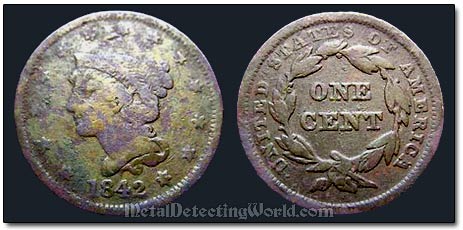 After Shelly's excitement subsided a little, I suggested her to check the spot around the hole. She did so, received no signal, and moved on. From my previous experiences, I knew that spots like this should be given a special attention. I came over to recheck the spot myself and was rewarded with a beautiful 1847 Seated Liberty Half Dime!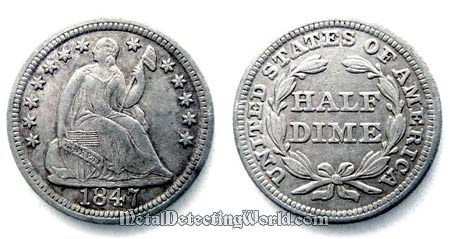 Shelly could not believe that she missed such a cool coin. I knew the reason: the Explorer seemed to detect deeper than the Spectrum XLT. We decided to search this particular area thoroughly and cleared a small patch, 5 yards by 5 yards, off the vegetation and branches.
A Small Patch Cleared for Metal Detecting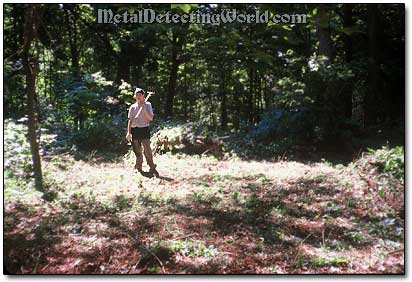 A little physical labor paid off. Shelly recovered a few Wheat Cents, a couple of silver Roosevelt Dimes, and one Mercury Dime from the shallow depths. I managed to find a deeper coin - a 1837 Large Cent, in great condition.
1837 Large Cent, Coronet Type, Matron Head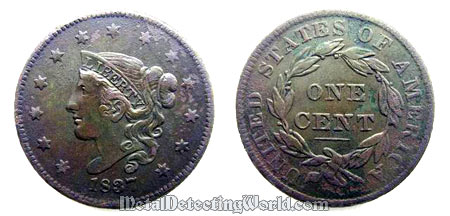 Number of pages: < Previous | 1 | 2 | 3 | 4 | 5 | 6 | Next >