Relic Hunting In Karelia
Rare Viking Relic Find
I was scanning the last two square meters of the "virgin" ground when I received a "big" signal. And it was not iron! The target was not buried deep, maybe just 6-7 inches.
Now it was exciting because I did not know what to expect. Up to this moment, the only large in size targets recovered were the fragments of the iron ploughs or other farming tools.
A Couple of Numerous Large Junk Finds That Got Me Tired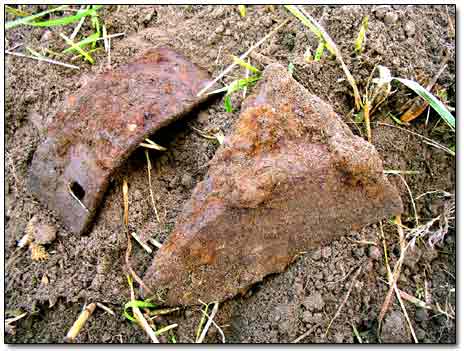 Now I used the pinpointing mode of the Explorer to get the object's exact location. Then I cut a large rectangular plug and flipped it over. I saw IT right away!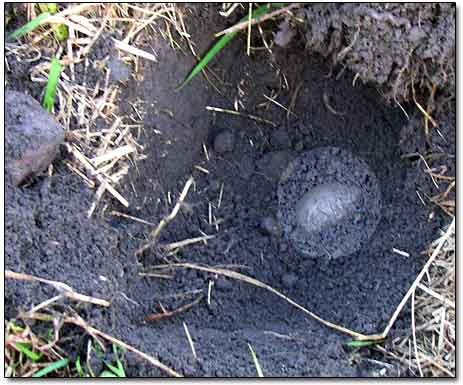 It was partially exposed, and I noticed its shiny convex shape with some design. I had not seen anything like that!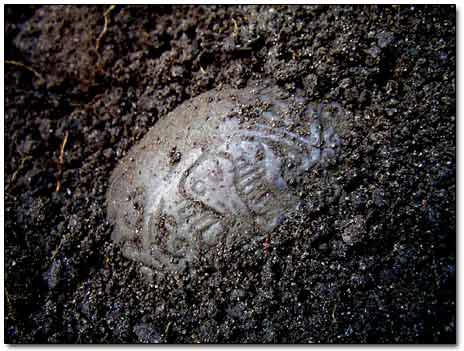 Even after I picked it up from the hole and was holding it, I still could not figure out what it was. Some sort of brooch or buckle?

It was great that I had actually completed scanning the entire site, otherwise I would just drop everything and get back to the city as fast as possible to research my unusual find on the Internet.
And that was what I did. First, I e-mailed my find's picture to my fellow treasure hunters in the Northern Europe and Scandinavia and asked them for any information on the "brooch."
I received an e-mail from a Norwegian treasure hunter:
"Every oval brooch dates from the merovingian time through Viking era. Certainly it is an oval brooch, indeed looking at the front and rear. The earliest ones have often one shell.
Later in Viking era these evolved into two-layer shells with lovely patterns and knobs, often gilded. One believes that the engraved oval brooches are the oldest, dating approximately 600 AD. Yours is an engraved type. I would believe it to be 7th-8th centuries."
Picture from Attachment: Table for Jewelry in Viking Era, circa 8th-10th Centuries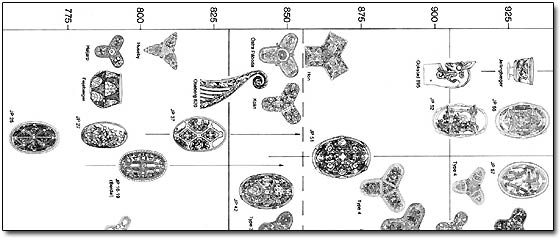 Now I got a few good leads for my research. The rest was easy. Here is what I found:
"The Scandinavian Brooches, or Fibulae, of the Viking period (8th-11th centuries) were oval and convex, of a safety-pin type, somewhat in the form of a tortoise, found in many female graves from the Viking Age.
The Tortoise Brooches themselves were sometimes chained together. These chains suspended from the pair of brooches also supported utilitarian objects such as tweezers, ear spoon and scissors. Sometimes the brooches suspended necklaces of beads of glass, amber or jet.
The geographical distribution of these peculiar brooches indicates the extent of the conquests of the Northmen. They occur in Scandinavia, northern Scotland, England, Ireland, Iceland, Normandy and Livonia."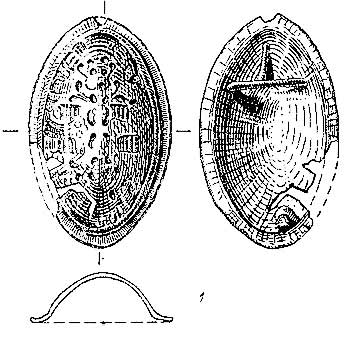 So my find was the most characteristic item of female Viking jewelry!
Scandinavian Tortoise Fibula, ca. either Viking Era (8th-11th Centuries) or Late Iron Age (11th-13th Centuries)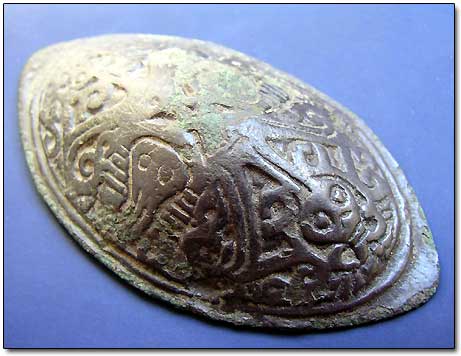 Number of pages: < Previous | 1 | 2 | 3 | 4 | 5 | 6 | 7 | 8 | 9 | 10 | 11 | 12 | 13 | 14 | 15 | 16 | 17 | 18 | 19 | 20 | 21 | 22 |

| 23 | 24 | 25 | 26 | 27 | 28 | 29 | 30 | 31 | 32 | 33 | 34 | 35 | 36 | 37 | 38 | Next >