Relic Hunting In Karelia - Karelian Isthmus: Brief Facts
In July, I arrived to the city of Priozersk - the third largest city on the Karelian Isthmus, located in the northern Leningrad Oblast (St. Petersburg Region), Russia.
The Karelian Isthmus is a stretch of land of about 45-110 km wide and 90 mi (145 km) long situated between the Gulf of Finland and Lake Ladoga in northwestern European Russia, to the north of the River Neva, few degrees to the south of Arctic Circle. The isthmus occupies about 15,000 km².
Karelian Isthmus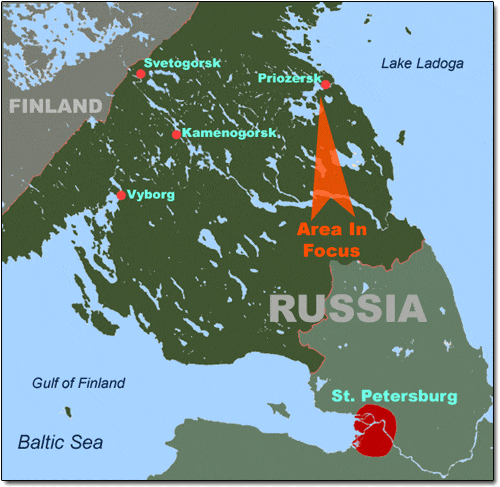 The natural northwestern boundary of Karelian Isthmus is the Salpausselkä ridge in Finland. The smaller part of the isthmus to the southeast of the old Russia-Finland border is considered historically Northern Ingria rather than part of Karelian Isthmus itself.
Originally part of the Grand Duchy of Sweden, the isthmus passed to Russia in 1721, and, except for its southernmost section, became part of Finland in 1917. The isthmus was ceded to the Soviet Union by Finland after the Winter War (1939-1940) and Continuation War (1941-1944). More than 400,000 of its Finnish residents moved into Finland.
The ceded territories were included within Karelo-Finnish Soviet Socialist Republic. However, since World War II the entire isthmus has been divided between the city of Saint Petersburg (mostly Kurortny District) and three Districts of Leningrad Oblast.
According to the 2002 census, population of Kurortny District of Saint Petersburg and the parts of Leningrad Oblast situated on Karelian Isthmus was about 539,000. Besides, many more St. Petersburgers spend their vacations there: the isthmus, especially the land along Saint Petersburg-Vyborg and Saint Petersburg-Priozersk railroads, hosts numerous dachas (summer houses).
A 20-35 km wide stretch of land to the west of the Vyborg-Hiitola railway, as well as the islands and shores of the Gulf of Vyborg, belongs to the strictly guarded zone of the border control, reaching the shore of Lake Ladoga at Hiitola. In 1993 - 2006 the zone was formally 5 km wide, although in fact it has always been much wider. Visiting it is forbidden without a permit issued by the FSB (by KGB during the time of the Soviet Union).
Medieval Russian Frontier-Guards (from Old Lithograph)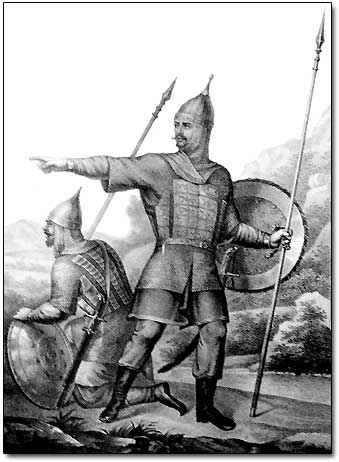 Number of pages: < Previous | 1 | 2 | 3 | 4 | 5 | 6 | 7 | 8 | 9 | 10 | 11 | 12 | 13 | 14 | 15 | 16 | 17 | 18 | 19 | 20 | 21 | 22 |

| 23 | 24 | 25 | 26 | 27 | 28 | 29 | 30 | 31 | 32 | 33 | 34 | 35 | 36 | 37 | 38 | Next >
source: en.wikipedia.org