My Search Programs for Minelab E-Trac & CTX 3030 Metal Detectors
Search Program #3 for RELIC HUNTING Iron & Non-Ferrous Artifacts, page 1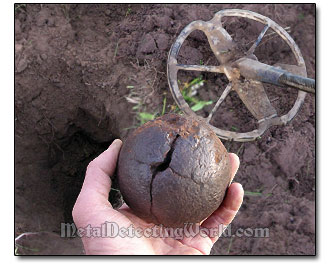 Minelab FBS metal detectors can be as successfully used for relic hunting as for coin shooting. Of course, on today's market, there are metal detectors especially designed for this type of treasure hunting. They are very light, very sensitive, and feature only what is necessary to enable a user to distinguish a small square nail from a big one.
In the hands of a pro, the Minelab FBS detector, either E-Trac or CTX 3030, can easily compete with the relic hunting machines because of its advanced technologies - FBS (multi-frequency operation) and Smartfind ("dot" Discrimination - target's precise FE-CO coordinates mapping). User's ability to control the detector's Discrimination with precision, detector's capability to handle any soil, excellent Audio and Visual Target ID (especially Target Trace feature on the CTX 3030), and amazing CTX 3030's capacity in Target Separation - all these are the key factors that enable the E-Tracs and CTX 3030s to match any specialized metal detector designed for relic hunting.
The relic hunting capabilities of the Minelab FBS detectors are not so well publicized and detailed on the web as their coin shooting abilities probably because the relic hunters are reluctant to give out their secrets.
This relic hunting program enables the Minelab CTX 3030 or E-Trac to detect not only small- and medium-sized relics (both FERROUS and NON-FERROUS), but also the relic and artifact caches at greater depths (if a large search coil is used). Also this program is useful for locating sites of former settlements that disappeared prior to mapping of the area and, therefore, are not shown on any map. Even though a stock search coil does a good job, a large, 15-inch or larger, search coil is preferred for relic hunting.
NOTE 1: In the "Level 1 - High Discrimination/Low Noise" Program Description, I explained every program setting's level or mode I utilize. If any setting in the following program has a different mode or level, or not utilized at all, a clarification will be given accordingly. Otherwise, please refer to the Level-1 Program Description for detailed explanations of program settings and useful tips for their implementation.
NOTE 2: While all the E-Trac functions, program setting and modes are given in black, the program settings of the Minelab CTX 3030, references to their description pages in the CTX-3030's Instruction Manual, and my short notes on their utilization in this program are given in this pink font color.
NOTE 3: I ALWAYS operate my metal detectors with headphones.
SEARCH COILS:
Both a standard (stock) 11" DD search coil (for CTX-3030: 11" DD Smart Coil) and search coils of larger sizes (for E-Trac: 12x10" SEF (Butterfly), 13" Ultimate DD, 15x12" SEF (Butterfly), 18x15" SEF (Butterfly), etc.; for CTX-3030: CTX 17 Smart Coil) should be used for detecting the deep-buried relics and other non-ferrous artifacts with this program.
17th Century Sickle After Being Cleaned with ELECTROLYSIS (see details HERE)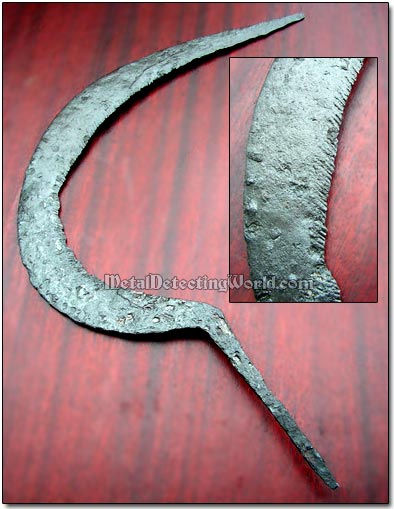 PROGRAM SETTINGS for NEUTRAL or LOW-MINERALIZED GROUND:
NOTE 4: Some program settings for detecting on HIGH-MINERALIZED grounds are included and explained.
NOTE 5: Summary Tables for these program settings are shown on page 4.
DETECTION SCREEN - PATTERN Screen (to select this mode, press "Detect" button; page 23 of the E-Trac Instruction Manual) - see details on page 2.
CTX 3030:
DETECT Screen (page 7 of the CTX-3030 Instruction Manual)
Sensitivity Menu:
(see details on page 3 of my 3-Level Search Program description)
SENSITIVITY - Manual at 25 (page 56 of the E-Trac Instruction Manual)

CTX 3030:
SENSITIVITY - Manual at 25 (page 21 of the CTX-3030 Instruction Manual)
Setting the Manual Sensitivity level higher may bring negative results as a large search coil will scan a few gallons of dirt and a lot of mineral content contained in it. If mineralization intensity is above a moderate level, your metal detector will respond to the ground with many false signals, and the detector depth penetration will be greatly reduced.
The Manual Sensitivity should be set on the detector's stability level. If mineralization is too high, select the 'AUTO' mode of Sensitivity to avoid both ground and iron falsing.
AUTO SENSITIVITY LEVEL - A if you use AUTO SENSITIVITY (page 55 of the E-Trac Instruction Manual)
CTX 3030:
AUTO SENSITIVITY LEVEL - A if you use AUTO SENSITIVITY (page 21 of the CTX-3030 Instruction Manual)
Number of pages: | 1 | 2 | 3 | 4 | 5 | 6 | Next >