Relic Hunting at Chernyakhov Culture Settlement Site (Story 3), page 24
Relic Hunting Ancient Bronze Fibulae
Brief Historical Facts on Fibulae Development (Continued):
"From the comparatively simple initial form, the fibula developed in different lines of descent, into different shapes, varying according to the structural feature which was emphasized. Towards the end of the Bronze Age the safety-pin was arched into a bow, so as to include a greater amount of stuff in its compass. In the older Iron Age or "Hallstatt period" the bow and its accessories are thickened and modified in various directions, so as to give greater rigidity, and prominences or surfaces for decoration.

Fibulae were made in gold, silver or bronze, adorned with precious stones, filigree work, or enamel; but whatever the richness of the material, the pin was nearly always of iron. The Scandinavian or northern group of T-shaped brooches are in their early forms indistinguishable from those of the Frankish tombs, but as time went on they became more massive, and richly decorated with intricate devices (perhaps brought in by Irish missionary influence), into which animal forms were introduced. Many forms of fibula were developed in which the safety-pin principle is either absent or effectually disguised."
The T-Shaped or "Cross-Bow" Fibulae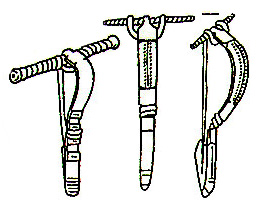 Silver Cross-bow Fibula, ca. AD III - IV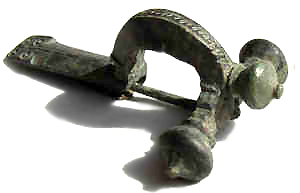 Unfortunately, because of the high crop on the field, we could not metal detect even in between the plant rows, so we searched only along the edge. I recovered a few interesting items.
First one was a silver knife-like relic which we could not ID.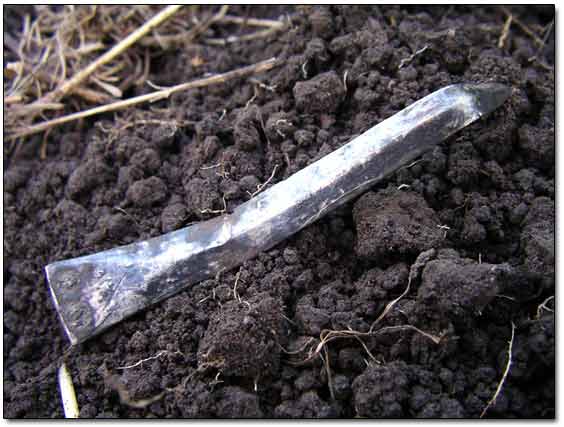 This Was a Real "Whatsit"

At a Closer Look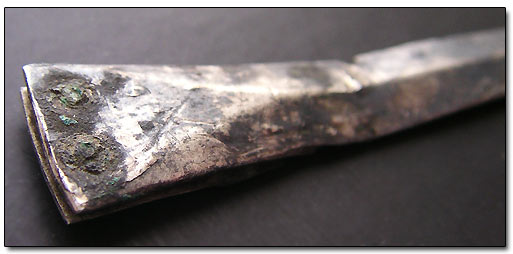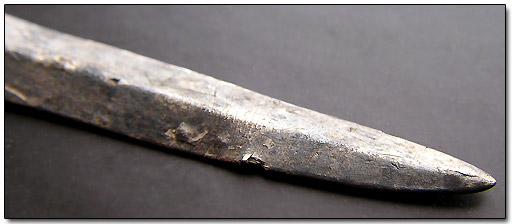 Then I dug up a copper brooch with traces of green enamel. It looked like it was machine-made so I would not date it back to the 10th century - probably the early 1900s.

Number of pages: < Previous | 1 | 2 | 3 | 4 | 5 | 6 | 7 | 8 | 9 | 10 | 11 | 12 | 13 | 14 | 15 | 16 | 17 | 18 | 19 | 20 | 21 | 22 |

| 23 | 24 | 25 | 26 | 27 | 28 | 29 | 30 | 31 | 32 | 33 | 34 | 35 | 36 | 37 | 38 | 39 | 40 | 41 | 42 | 43 | 44 | Next >
Source: en.wikipedia.org, en.wikisource.org, Pirjo Uino. Archaeological studies. Helsinki. 1997