Recovering an Ancient Golden Horde Relic
After cooling down and resting for a while, I continued metal detecting from the point where I stopped before my break. Soon, I got a good bronze signal again. It was not as "round" as the ring's signal, but it was not a "jagged" signal either - not a junk target.
When I dug it up, I could see it was symmetrical, but I still could not make anything out of it.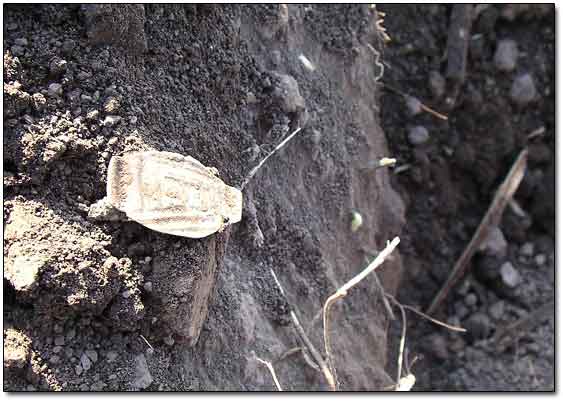 It had some linear design on it, similar to the Tartar-Mongol ornaments of the 13th century.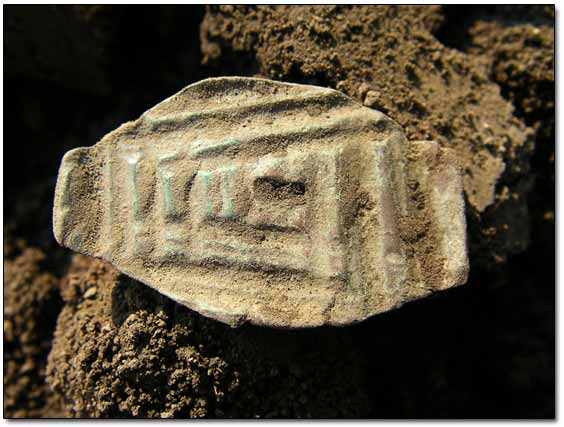 Dima came over to tell me that our driver Bronek had to be back in Skvira soon. Dima wanted to go home as well because he was exhausted from heat.
I saw his eyes lit up when I showed him my unusual find. We both started brainstorming for any clues for this relic's use. After I washed the dirt off the "whatsit" with water, the perfect square hole in the middle of it got my attention.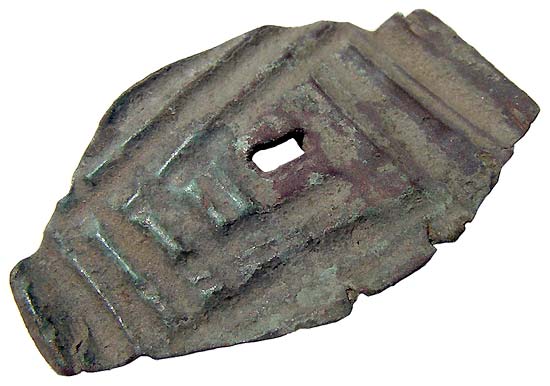 That was when I figured out what it was - a guard for a small knife or awl! Possibly, a Mongolian warrior dropped it in this field back in the 13th century. I felt how much Dima envied me.
Iron Knife Blade with Bronze Guard, circa 14th Century

Knowing how greatly Dima, a buff of both cold steel and Golden Horde, would appreciate to have such a rare relic, I accepted Dima's offer to swap my find for some of his. Dima was as happy as "a flea on the dog show!"
Even though we were not lucky locating a ghost village, it was not a bad metal detecting day - we touched some medieval history again! Now we needed some rest before performing further "feats of arms."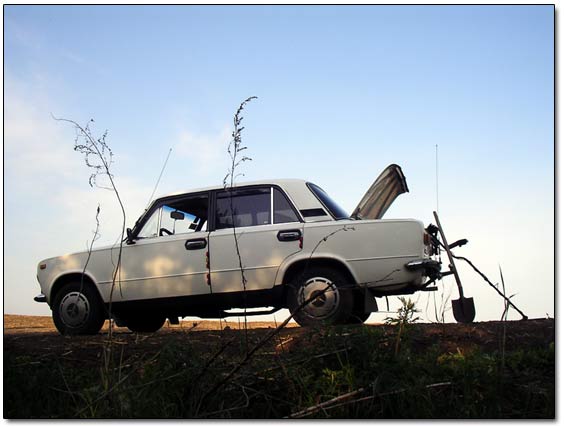 Number of pages: < Previous | 1 | 2 | 3 | 4 | 5 | 6 | 7 | 8 | 9 | 10 | 11 | 12 | 13 | 14 | 15 | 16 | 17 | 18 | 19 | 20 | 21 | 22 |

| 23 | 24 | 25 | 26 | 27 | 28 | 29 | 30 | 31 | 32 | 33 | 34 | 35 | 36 | 37 | 38 | 39 | 40 | 41 | 42 | 43 | 44 | Next >