Searching for Ancient Village Site in the Fields
One local old-timer told us about a village that used to be on a huge plateau situated between the Berezyanka river and its right tributary. In the 1240s, the Mongols attacked that village and burned it down. Later, the village rebuilt and grew up in size. At some point in history, it had a church, a school house and about 30 houses. For an unknown reason, the village disappeared for good in the 19th century.
A couple more old-timers confirmed that information - a solid lead, which no one would leave without an investigation! Certainly, such a piece of information would get any treasure hunter hyper. When we got onto that plateau and saw its vastness, our hopes to "find a needle in a hay stack" were dashed to the ground.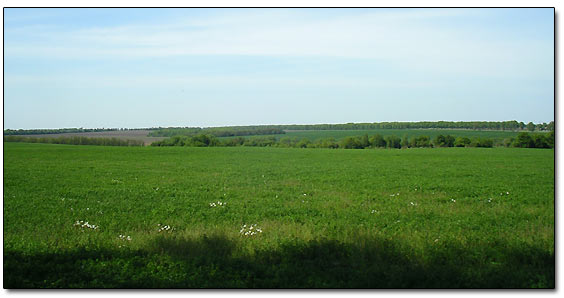 To carry out just a simple task of looking for pottery fragments on the ground would take the whole summer! The best place to start would be the highest elevated point somewhere in the fields, hopefully with a water source nearby. The topo map gave us a few locations of that character, but the increasing scorching heat would probably prevent us from covering them all. The summer started one month earlier in Europe this year, and the temperatures kept over 100°F the entire month of May!
Both Dima and I had Minelab Explorers this season. We set them up with a minuscule discrimination by turning on the Iron Mask at -14. That would allow us to hear a solid signal produced by any large square nail or even a small knife blade. Dima gave his old White's Spectrum XLT to Bronek, our driver, so he would not get entirely bored. Now it was time to Relic Hunt!
The first location was in a field with growing crop, so we had to walk in between the plant beds. The small marsh in the gully indicated a former source of water.
Dima Got a Signal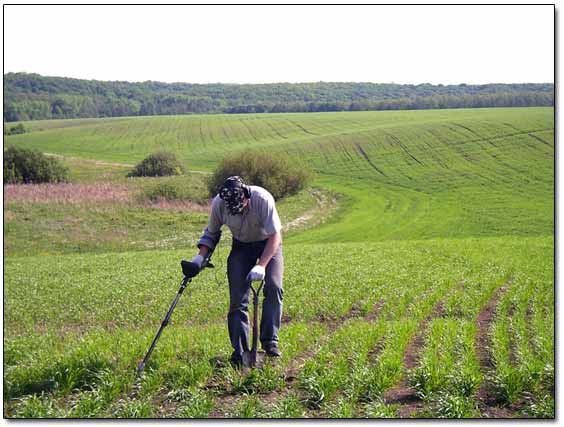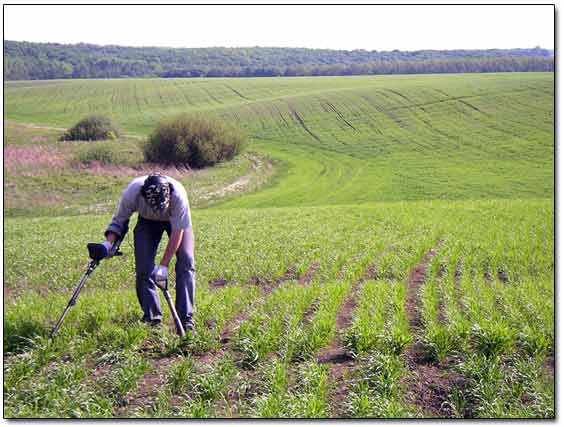 His Face Expression Said It All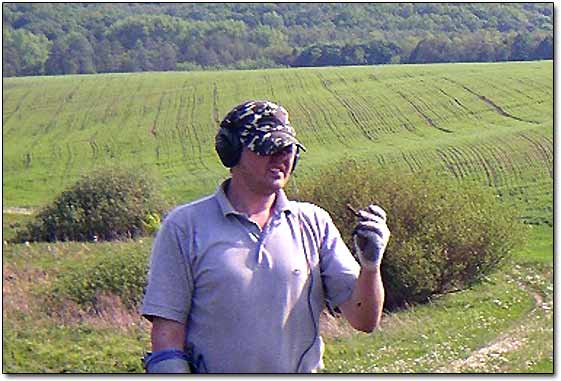 Number of pages: < Previous | 1 | 2 | 3 | 4 | 5 | 6 | 7 | 8 | 9 | 10 | 11 | 12 | 13 | 14 | 15 | 16 | 17 | 18 | 19 | 20 | 21 | 22 |

| 23 | 24 | 25 | 26 | 27 | 28 | 29 | 30 | 31 | 32 | 33 | 34 | 35 | 36 | 37 | 38 | 39 | 40 | 41 | 42 | 43 | 44 | Next >