World War II Military Relic Hunting, page 25
Discovering Old Coins at Hunt Site Littered with WW2 Iron Junk
Discovery of this Finnish coin could confirm my assumption that there was a typical Finnish homestead here in the 19th and early 20th centuries.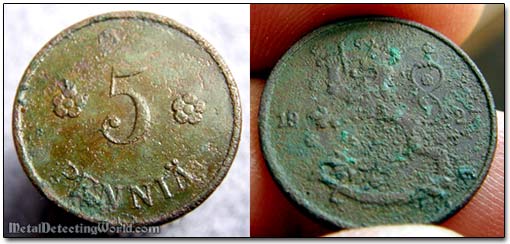 Finnish 1927 5 Pennia
The second signal was even better in tone. With Explorer's Tone ID, one never could confuse this "sound of flute" with anything. It was a silver coin!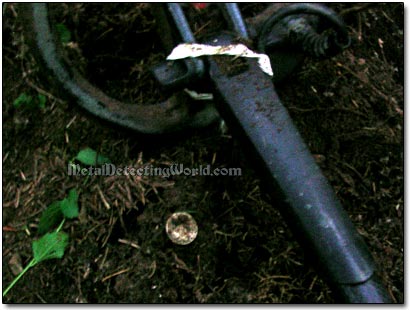 Discovering a Silver Coin
Finally I got rewarded for a long day of digging junk. Too bad that it was getting dark now, and I had to get back to my bicycle and pedal 5 km back to Sillame. This site should be definitely searched in early spring when the ground is bare of grass and vegetation.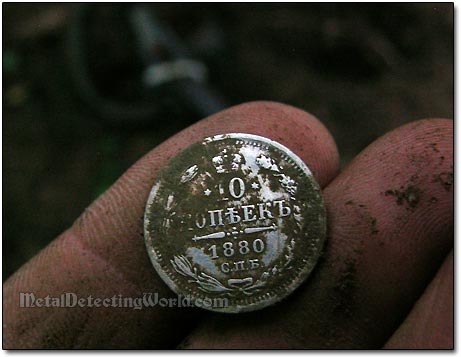 19th Century Imperial Coin
Just the sight of dug silver coin, no matter if it was of the 19th century, satisfied my soul. As one of my old treasure hunting friends in New York used to say, "If I found at least one silver coin, it was a good month of metal detecting."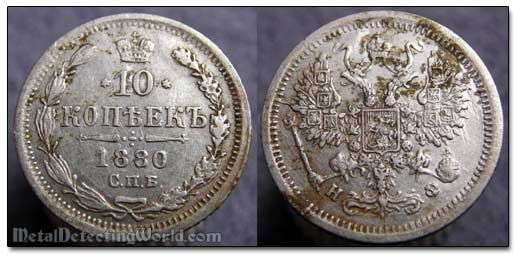 1880 10 Kopeks, Czar Alexander II
While I was packing my metal detector into the backpack, a small stick cracked some 100 yards away in the forest. The bobcat of a big size, or whatever it was, started meowing and growling again, only now it was moving towards me! Perhaps it got tired of me spending too much time on its territory.
Never before in my entire treasure hunting experience, I was "pushed" out of the woods by a wild animal. It was fanny and scary at the same time because not much I could do with my small shovel against the beast. As the old Russian saying goes, "It was time to do legs!" So I left. I will come back prepared next time! For now, I could just enjoy the whole month of relaxing on the Baltic Sea beach.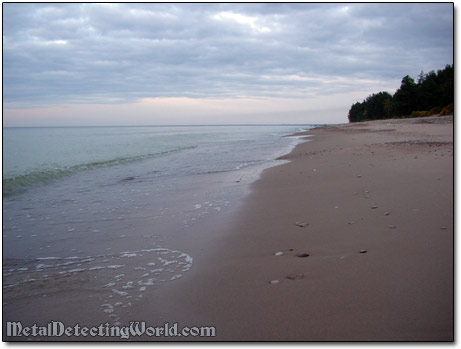 Calm Baltic Sea at the WW2 Beach Battle Site
Happy Hunting!
If you would like to point out any errors, ask me a question, or submit your story on WWII Military Relic Hunting, please do not hesitate to send me a message!
If you would like to follow me on Twitter, please press a button:
You may want to look at various WWII military relic finds in my photo galleries:
Find me on Google+, and I also have a Google+ Page: "Metal Detecting World"