Exploring WW2 German Army Defense Positions Along the Baltic Seashore
WWII Military Relics from Tannenbergstellung Battle - Battle of Narva 1944, page 2
The first time I brought my metal detector to Estonia was when I visited my mother in Sillamäe in 2002. Back then, I knew a little about this area's history: 1502 was the earliest date the vicinity was mentioned in the old chronicles, and a few small fishing villages were established on the Baltic Sea shore.
The Baltic Sea Coast Line With the City of Sillamäe Visible On the Horizon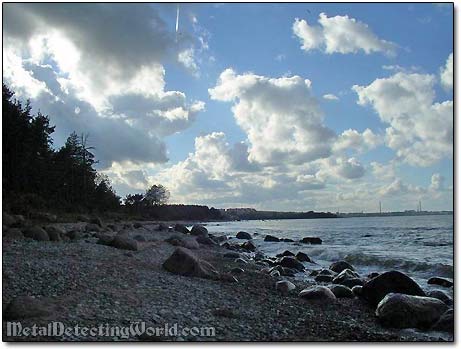 The Baltic Sea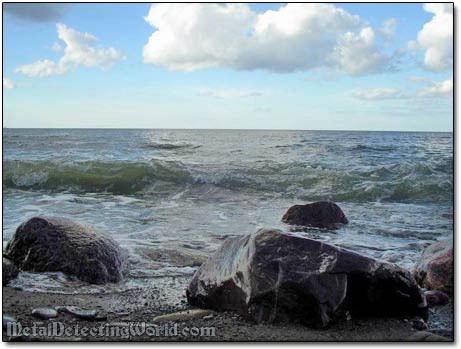 I certainly was not aware of the WW2 military action that took place in the area during the Battle of Narva, or more correctly a campaign, which took place between January and September 1944. The fierce fighting between the Red Army and Nordland Group's 20th Division of the Nazi Germany forces turned the entire area into a war zone.
The Area in Focus on Modern Map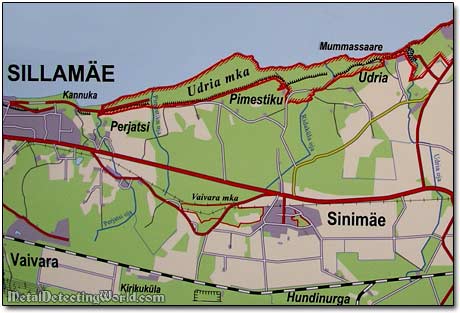 The area around the cities of Sillamäe and Sinemäe saw the second phase of the battle, entitled The Battle of the Tannenbergstellung (Tannenberg Line). The Tannenbergstellung consisted of three hills, running east to west. The eastern hill was known as the Kinderheimhöhe (Orphanage Hill), the center was Grenadierhöhe (Grenadier Hill) and the westernmost 69.9 Höhe (Hill 69.9, also known as Liebhöhe or Love's Hill). These three hills, known as the Blue Mountains, were less than imposing, and resembled gently sloping mounds rather than defensible heights.
Positions of Nederland and Nordland Regiments on Blue Mountains between June 26 and September 18, 1944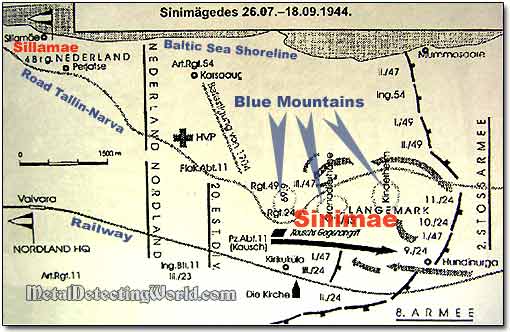 During that fighting, division Nordland suffered heavy casualties from taking part in several hand-to-hand actions. Nordland lost all of their tanks and armored fighting vehicles and had to fight on as infantry. The International Waffen SS (11th Waffen SS-Freiwilligen-Panzergrenadier Brigade "Neiderlande") that included an Estonian Battalion was wiped out completely.
The Second Phase of Tannenbergstellung Battle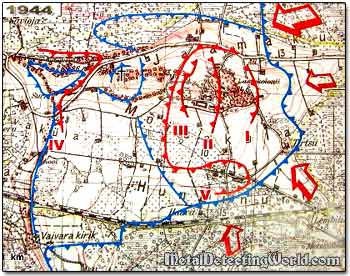 A Heavy Fight Took Place On This Beach Too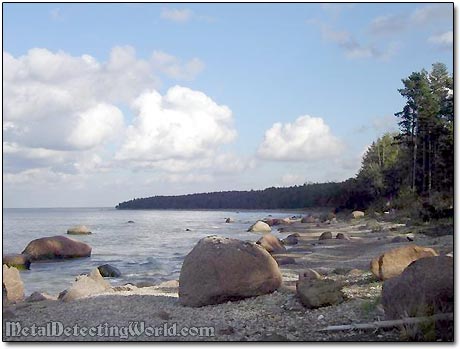 Number of pages: < Previous | 1 | 2 | 3 | 4 | 5 | 6 | 7 | 8 | 9 | 10 | 11 |

| 12 | 13 | 14 | 15 | 16 | 17 | 18 | 19 | 20 | 21 | 22 | 23 | 24 | 25 | Next >