Vibra-Probe 580 Pinpointer

-

a Pulse Induction (PI) Electronic Probe for Target Pinpointing Both on Land and Underwater

Brand: Vibra-Probe
Manufactured by: Treasure Products, Inc. (USA)
Vibra-Probe 580 Pinpointer

: Features, Specs, and My Review - Three Good Reasons To Use It On Land

by Sergei Upstateny,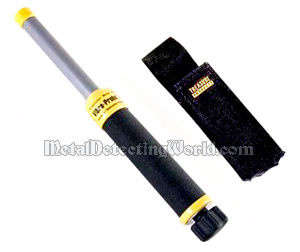 FEATURES & SPECIFICATIONS:
Pulse Induction (PI) Technology
unique tilt-on/off technology;
No push button switches;
Proportional vibration pulse rate target indicator;
Solid construction - The Vibra-Probe's rugged sealed construction and stainless steel hardware are built to last.
Detection Type Search Mode: All Metal;
Overall Length: 14 inches (35 cm);
Battery: Standard 9 V Alkaline or NiMH rechargeable;
Battery Saver: one-minute automatic-off;
Detection depth stability - New advanced circuitry maintains the unit's detection distance throughout the life of the battery.
True target direction - The Vibra-Probe 570 detects at the tip only, not along the shaft, enabling precision target pinpointing.
Holster - Includes belt mountable holster for easy carrying.
Weight: 0.5 lbs.
Warranty: 1 year;
Three Good Reasons for Using Vibra-Probe 580 on Land:
Reason #1
Vibra-Probe 580 pinpointer is #2 in my arsenal of electronic probes/pinpointers. Although I use the Garrett Pro-Pointer - my #1 target recovery tool, most of the time, sometimes adverse weather or metal detecting conditions require usage of a very robust and waterproof device such as the Vibra-Probe 580 pinpointer. This is my reason #1 for using it.
The Vibra-Probe 580 was designed and built specifically for underwater treasure hunting and has been successfully used by scuba treasure hunters looking for shipwrecks at the ocean floor. The Vibra-Probe 580's sealed design is airtight and remains waterproof to a depth of 100 feet underwater. This is the main reason for me to use the Vibra-Probe 580 under adverse conditions on land. I can easily metal detect under a heavy downpour and have my peace of mind because both my XP Deus metal detector (actually just its stem with a search coil; the rest being under my rain jacket) and my Vibra-Probe 580 pinpointer do not require any protection from rain. And when a strong wind hits, I still do not have to worry about missing audio responses to pinpointed targets due to strong ambient noises (wind blasts, rain drops clattering against my hood, rustle of leaves, etc.) as the Vibra-Probe 580 simply vibrates.
Reason #2
Because the Vibra-Probe 580 incorporates the Pulse Induction (PI) Technology, it never gets affected by mineral content in the ground, especially at high-mineralized sites. This is the second good reason for me to use the Vibra-Probe 580 at hunt sites with the high-mineralized "pockets". The Garrett Pro-Pointer - a VLF mini-detector, may false-signal badly at such locations, but the Vibra-Probe 580 vibrates only when it senses a target, and only when it points to the target as the Vibra-Probe detects at the tip only. This is why the Vibra-Probe 580 is widely used for pinpointing targets on the wet sand at the ocean and sea beaches.
Reason #3
And the third good reason for using the Vibra-Probe 580 on land is the pinpointer's length - 14 inches (35 cm). With its substantial length, the pinpointer comes in handy while locating the medium- or large-sized target, such as a cannon ball or a medieval axehead, in a deep dug hole. Combined with my arm's length - 80 cm, the overall length, my arm + pinpointer, allows me to scan the bottom of the dug hole at 1.25 m (4 feet)! So, this is a very practical pinpointing device for locating targets during coin cache or relic hunting sessions.
Of course, the Vibra-Probe 580 is cumbersome and not as ergonomic as my Garrett Pro-Pointer when used under normal metal detecting conditions on land. This is the only reason for me to give it four stars. However, having no LED illumination, speaker opening or a single button, the Vibra-Probe 580 is the simplest automatic device one can imagine, and its simplicity, full waterproof and super durability make it the only pinpointer that can function with high efficiency when other pinpointers fail.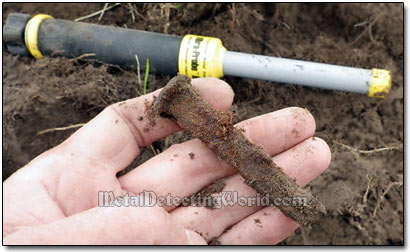 You can find and compare Specifications, Features, Prices, Users' Reviews and Ratings - all helpful Information, for pinpointers designed for metal detecting on Pinpointers & Electronic Probes Reviews Page.
If you would like to point out any errors, ask me a question, or express your opinion, please do not hesitate to send me a message!
If you would like to follow me on Twitter, please press a button:
Find me on Google+, and I also have a Google+ Page: "Metal Detecting World"