Garrett Pro-Pointer Pinpointer

-

an Electronic Probe for Locating Detected Objects During Target Recovery

, page 2

Brand: Garrett
Manufactured by: Garrett Electronics, Inc. (USA)
The Most Efficient Electronic Pinpointer

:


Features and Specifications, My Review and Practical Tips

by Sergei Upstateny,

Garrett Pro-Pointer SPECIFICATIONS: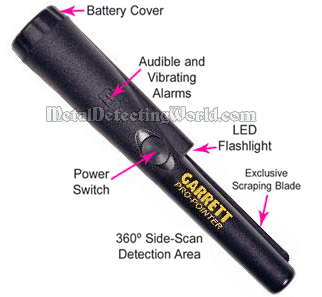 VLF Technology
Operating Frequency - 12 kHz
Proportional audio/vibration pulse rate target indicators;
Pinpointer's tip and 360-side-scan detection areas;
LED light for dim light conditions;
Scraping blade for searching soil;
Automatic tuning;
Woven belt holster (included);
Length 9" (22.9 cm)
Thickness: 1/5" (3.8 cm) tapered to .875" (2.2cm)
Weight: 7 oz. (0.2 kg)
Tuning: Automatic
Operating Temperatures: -35F (-37C) to 159F (70C)
Water and Dust: Meets IEC 60529 IP 66 standards
Battery: Single 9V (included)
Battery Life: Carbon (16 hours); Alkaline (30 hours); Rechargeable (8 hours)
2 Year Warranty, Limited Parts/Labor
This pinpointer has certainly earned the best reputation on the today's market for its easy-to-use concept, efficiency, durability and reliability. It is small and light, and shaped to be easily handled and held. Without a doubt, it is a must for any serious coin shooter. I do not leave my home without it and always keep it attached to my waist belt during metal detecting outings.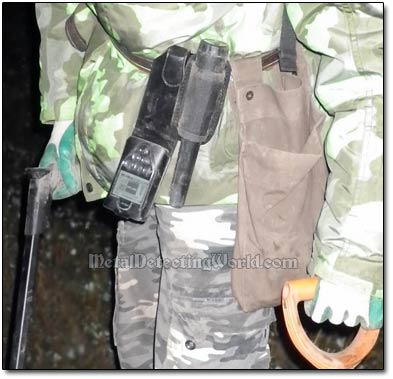 Sheathed Garrett Pro-Pointer Is Attached To My Belt
The Garrett Pro-Pointer is very simple to operate: just press the ON/OFF button (Power Switch), wait for two "beeps" while the pinpointer is automatically adjusting itself for current conditions - Auto tunes, then a white LED illuminator comes on, and the unit is ready to locate a target. The Pro-Pointer provides both tip detection and 360 side scan detection area which makes it easier to locate a target inside a dug hole.
The intensity of the audio/vibration signal - pulsing rate, increases when the pinpointer is placed closer to the target, whether it is tip- or side-scanned. The Pro-Pointer is water resistant only below the speaker opening. To wash the unit under running tap water or use in the rain, take a simple precaution described in the "Practical Tips" section below.
A scraping blade for searching soil is one of the Pro-Pointer's useful features. It allows for fast recovery of shallow coins and jewelry in soft (sand) or dry and loose soils without using any digging tools. You simply use the scraping blade to remove a couple of inches of soil off the target spot and recover the target. This substantially increases the time efficiency in the field. The scraping blade also enables a user to quickly scan a larger area by holding the pinpointer on its side, flat against the ground surface, and locate the target.
Practical Tips for Trouble Prevention and Effective Operation
Here are a few trouble prevention tips which may help in both prolonging your pinpointer's life and functionality.
Tip #1:
The Garrett Pro-Pointer is NOT fully waterproof. You should avoid sticking it underwater! The speaker opening and the battery cover are the most vulnerable points susceptible to moisture and dust penetration. To have some dustproof as well as to wash the unit under running tap water or use in the rain, wrap a few layers of 3M Pro Vinyl Electrical Tape around the body so it covers the speaker port. This may help those who have a small issue with the audio target indication: they would like to turn off the sound, but it is not possible. If you use a bright orange or red tape, you will also solve the problem described in Tip #2 (on next page).
Making the cover for a battery compartment waterproof would require use of a special Hydrophilic Water Plug Sealant - non-hardening paste, that can be purchased at Home Depot or Lowes. The sealant is applied to the cover's screw-thread. You can also apply it onto the speaker port and the ON/OFF button, but then you will have to cover both with goop, like the 'Marine' or 'RV' contact adhesive & sealant, applying a couple of layers and allowing each layer to dry. To be completely on a safe side, put a little dab of the goop onto the LED illuminator. After this applications, you can actually take the Garrett Pro-Pointer deep underwater! Not to lose it, see my Tip #2.
Find me on Google+, and I also have a Google+ Page: "Metal Detecting World"