Headphones I Use for Treasure Hunting, page 2
Wireless Sennheiser HDR-160, XP Deus' WS4 Wireless & XP FX-01 Wire Headphones
(...CONTINUED from Previous Page)
The best solution was to make the E-Trac wireless (you may want to see my tutorial "How To Make Your Metal Detector Headphone Operation Wireless"). I did that by using the wireless digital Sennheiser HDR-160 headphones. Although these headphones do not have impedance as high as impedance of the Koss UR-30 headphones, they do a good job, and there is no lag with the signal.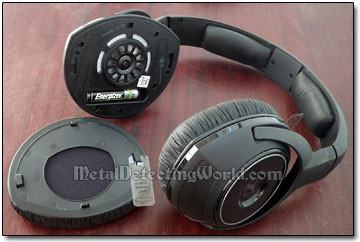 Wireless Digital Sennheiser HDR-160 Headphones I Used for Minelab E-Trac
Well, since I started using the XP Deus metal detector, the Koss UR-30 headphones had to retire and now have been used just for listening to music. For some reason, the Koss UR-30 headphones did not produce good and crispy sounds with the Deus. Target signals sounded rather too bassy. And using a 1/4"-Plug-to-1/8"-Jack adapter to plug the UR-30 into the Deus' remote control caused very annoying signal disappearance. Surprisingly the XP Deus' wireless headphones - the detector's "brain" themselves, best serve the purpose.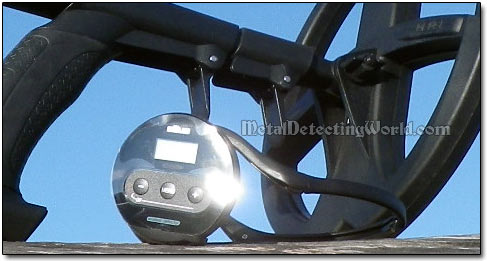 Wireless Ear-clip Behind-the-Neck WS-4 Stock Headphones for XP Deus
When my girlfriend metal detects with the Deus' "double", she uses the XP GoldMaxx Power's stock wire FX-01 headphones. They can be used with the Deus' remote control as they have a 1/8" headphone plug and also produce good quality sounds.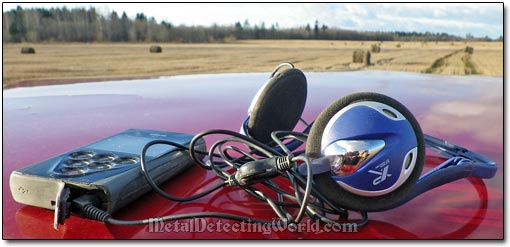 Wire FX-01 Earclip On-Ear Headphones I Use for My XP Deus' "Double"
Another good reason to use the FX-01 headphones with XP Deus metal detector is that the wire FX-01 headphones do not require battery charging. For example, you may have a situation when you metal detect in a remote area and away from your car for a few days and have to use the XP Deus Emergency Field Charger to recharge the Deus' electronic modules (a remote control, a search coil and wireless headphones). In this case, the wire FX-01 headphones are the "must-have" allowing you to spare a few AA NiMH batteries to be used for recharging the search coil and remote control. When I use the FX-01 headphones with the Deus, I plug them into the Deus' remote control which hangs in its case on my waist belt. Thus, the headphones' wire does not hinder my movements during metal detecting and target recoveries.
You can find and compare Specifications, Features, Prices, Users' Reviews and Ratings - all helpful Information, for headphones designed for metal detecting at Headphones Reviews Page.
If you would like to follow me on Twitter, please press a button:
Find me on Google+, and I also have a Google+ Page: "Metal Detecting World"