Treasure Hunting in Ukraine (Story 2), page 20
Crossing "Before The Christ" Time Barrier with Finds at Medieval Market Site
Well, that was one of my best metal detecting days! I had never dug up so much of ancient stuff before. As usual, I tried to make an assessment of the site and came up with this idea: this spot served as a market place on the river for centuries because the finds' dates would range within 2000 years of time-frame, and there was never a settlement exactly at this location (usual brick fragments and household junk were absent).
The ancient trade routes went right through the area. So the merchants would moor at the spot and exchange or sell their goods to the local people (there were a couple of large settlements in the vicinity).
All Finds from the Site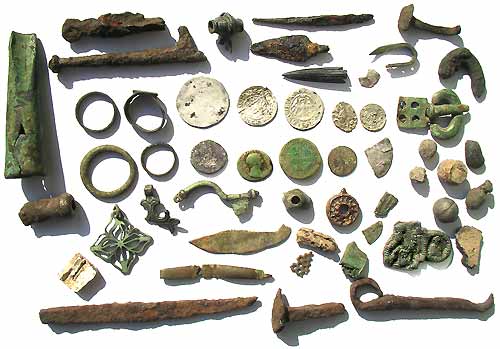 All Coins and Round Objects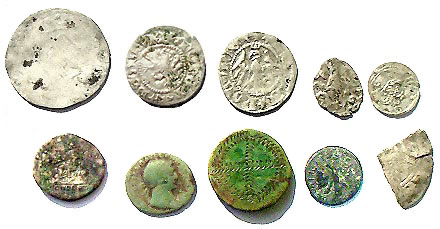 No doubt, I had a great time crossing the "Before The Christ" time barrier with my find! How more down the time can one go with a metal detecting finds? Now, every time I hold that arrowhead, I feel some interesting energy. Oh boy, I envy those who dig up the ancient civilizations!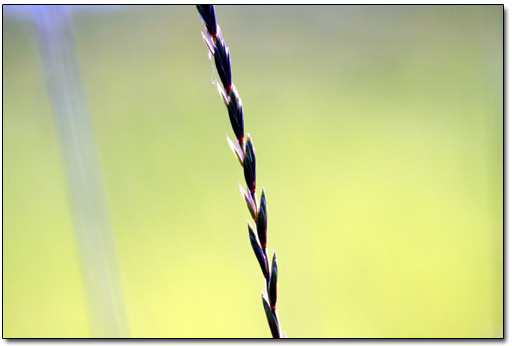 After I posted this story on my web site, I received an e-mail from a good friend of mine Thorsten, an avid treasure hunter from Germany, who expressed his idea on what the bronze "whatsit," shown on page 15, could be:
"I think it is a socket chisel. In Germany, these items date to the late bronze age some 1300-800 BC. Bronze tools are usually very old. Since iron was the superior metal for tools, bronze tools became obsolete rather early, at some 800 BC. I have to stress though that the iron age did not start everywhere at the same time. It took new developments centuries to come from the Near East to Germany, and I do not know about Ukraine. If it turns out to be such an object, it is certainly a very desirable find and possibly even older than your 3 winged arrow head."
Oh well... :)
Happy Hunting!
If you would like to recommend this metal detecting story to everyone, please click the button:
Number of pages: < Previous | 1 | 2 | 3 | 4 | 5 | 6 | 7 | 8 | 9 | 10 | 11 | 12 | 13 | 14 | 15 | 16 | 17 | 18 | 19 | 20 |
Metal Detecting in Ukraine Page | All My Stories Directory | Useful Articles on Metal Detecting | MetalDetectingWorld Home