Discovery of the Ancient Arrowhead - Crossing the B.C. Time Barrier (Story 2)
I slowly began scanning the ground in circular pattern around the last dug hole, and received an interesting signal. It was not "round." It had some unusual sound pattern, and the cursor on the display stayed in one place, in the copper/bronze area.
As I started digging and scanning the dirt, I realized that it was a deep target, at least 11 inches deep. Suddenly an object fell out of the dirt-pile on the shovel blade. I noticed it only because it was shiny enough to reflect the sunlight into my eyes! It fell back into the hole.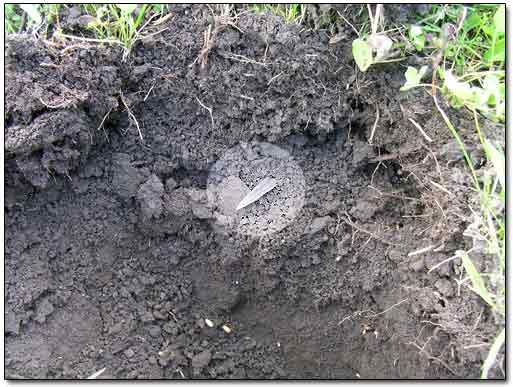 I looked at it and thought it was a modern arrowhead that a bow hunter had lost recently. Right away, I realized how ridiculous my thought was.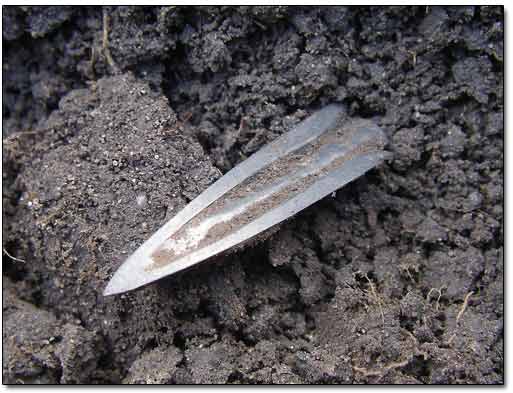 I called Dmitry and he came over. When he saw my find, he offered me to exchange my find for his silver Roman Denarius! Now I knew I recovered something very ancient and valuable.
Later I made a trip to the Kievan museum and found out that my find was a tri-lobbed arrowhead of the armour-piercing type, made of a Bronze/Pewter alloy, and dated back to the...600 BC (Before The Christ)!!! I was glad that I refused to swap my 2600 years old Relic Find of the Year!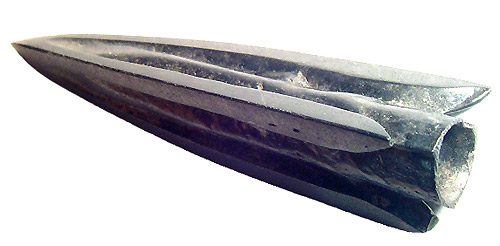 The arrowhead represents the Graeco-Scythian culture. The Scythians or Scyths (Skiffs) were an Iranian speaking people of horse-riding nomadic pastorals who dominated the vast territory comprised of the Pontic-Caspian steppe (Kazakhstan, southern Russia and eastern Ukraine), the northern Caucasus area, including Azerbaijan and Georgia, and Southern Ukraine with the lower Danube river area and Bulgaria (also known as Scythia Minor) from at least the 8th century BC until 2th century AD (Classical Antiquity). By the end of the 3rd century AD (Late Antiquity) the closely-related Sarmatians came to dominate the Scyths and ended their era.
Much of the surviving information about the Scyths was provided by the Greek historian Herodotus (circa 440 BC) in his Histories, and has been supported by the archaeological finds, the exquisite gold work, recovered in Scythian burial mounds in Ukraine and Southern Russia. The name "Scythian" has also been used to refer to various peoples seen as similar to the Scythians, or who lived anywhere in a vast area covering present-day Ukraine, southern Russia and Central Asia — known until medieval times as Scythia.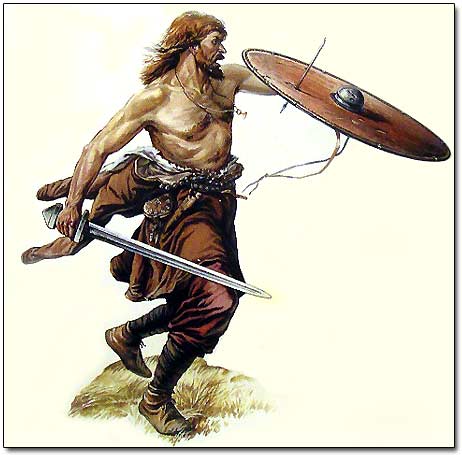 A Skiff (Scythian) Warrior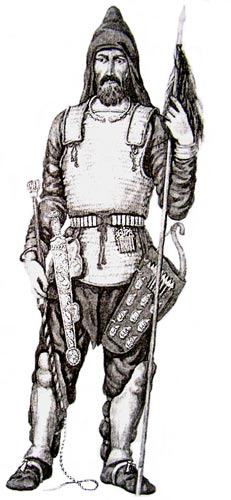 Number of pages: < Previous | 1 | 2 | 3 | 4 | 5 | 6 | 7 | 8 | 9 | 10 | 11 | 12 | 13 | 14 | 15 | 16 | 17 | 18 | 19 | 20 | Next >