Winter Metal Detecting in Rensselaer County, Upstate New York, page 8
Visiting My Treasure Hunting Buddy Tim in Watervliet
Having known my treasure hunting buddy Tim for years, I was sure that he without hesitation would jump on the idea to go metal detecting at one interesting hunt site in Rensselaer County, NY, in February.
It was summer of 2002 when Tim and I first met at the picnic grove site on Green Island where Shelly and I had already been successfully coin shooting for a while. In the following years after our first meeting, Tim, his buddy Angelo (Primo) and I went together on many metal detecting trips in Upstate NY and out of state, including trips to competition rallies (you may want to read my story C.A.S.H. Bash Competition Hunt 2005 in Connecticut in which both Tim and Primo appear).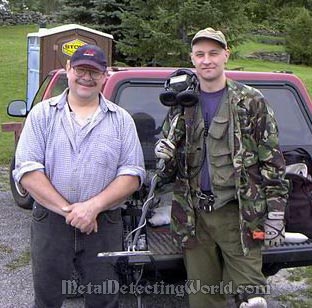 Tim and I at Club Competition Hunt in 2002
I wish I had more time to create and publish my web stories based on material that I had accumulated from our joint treasure hunting trips over years. Oh well, more new material will be accumulated in the upcoming season of 2014, and I will create and publish a few metal detecting stories covering my treasure hunts with Tim and Primo. But for now, here is what Tim and I did in February of 2012.
Tim got very excited when I called him and told him to start charging batteries and getting metal detectors out of his garage. Prior to this moment, Tim and I have not seen each other for a few years - we had a lot of catching up to do. So I gladly accepted his invitation to come to his house for a cup of green tea, grabbed a bag of delicious Russian candies, and was knocking at his door in 10 minutes.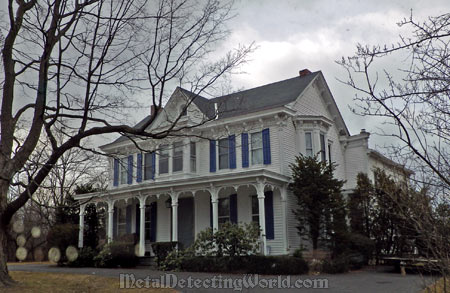 Tim's House in Watervliet
I always like coming to Tim's house because it is a spacious, very cozy and well inside-decorated place. Outside, on the front lawn, Tim set up two vintage ploughs which he discovered at some old farm and restored; thus, making a nice touch to the landscape around his house.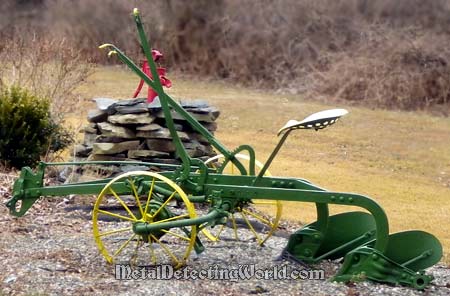 One of Two Vintage Ploughs Recovered and Restored by Tim
Over many years of metal detecting, Tim has collected quite a few interesting coins and artifacts. He is most proud of his collection of Colonial and Rev War Belt and Shoe Buckles that he recovered at various metal detecting locations in Upstate NY.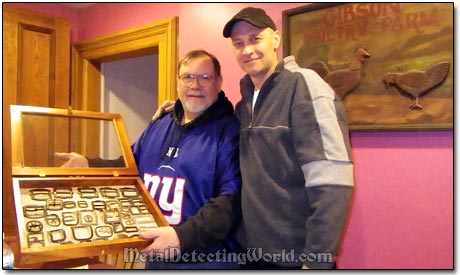 Tim Showing Me His Colonial Belt and Shoe Buckle Collection Display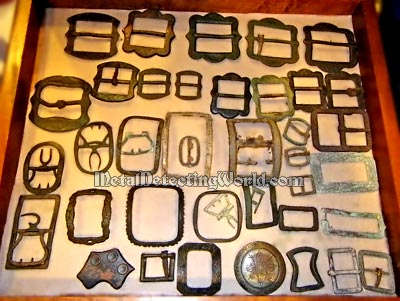 I have to admit that when I looked at Tim's collection of buckles, I immediately had an urge to run to his garage, grab metal detectors and sally out into the woods for relic hunting! It is always hard not to do so when you see a piece like this: