Winter Metal Detecting in Rensselaer County, Upstate New York, page 9
Collection of Jugs and Crocks Stoneware by WM.E. Warner and West Troy Pottery
Tim also has a beautiful collection of stoneware - jugs and crocks, made by a local manufacturer, WM.E. Warner and West Troy Pottery, right here in Watervliet in the 19th century. I lived in Watervliet for five years and learned as much history of this place as possible to use it in my metal detecting research...
But I was not aware of the stoneware manufacture - one of the major centers of American stoneware production, that used to produce nice blue-decorated jugs and crocks just two blocks away from where I lived. I sure was surprised to find out about this "stoneware" part of Watervliet history, and extremely delighted to touch the history at Tim's house!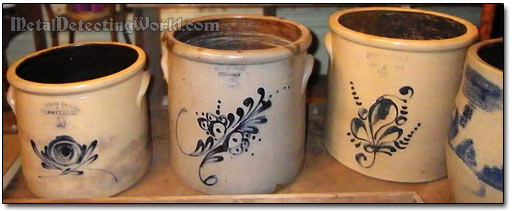 Stoneware Crocks Made by West Troy Pottery, ca. 1845-1899
Stoneware of West Troy (Watervliet), NY
"William Warner, a well-known potter, worked in West Troy between 1836 and 1839, between 1841 and 1856, and again between 1861 and 1870 at his new factory just east of the West Troy Pottery. Edward Selby and his sons manufactured earthenware at West Troy between 1870 and 1903.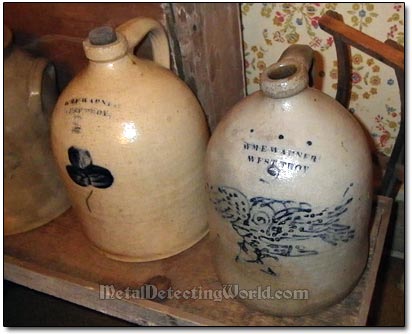 Glaze Stoneware Cobalt Ovoid Crock Jugs
by WME Warner, West Troy, ca. 1841-1856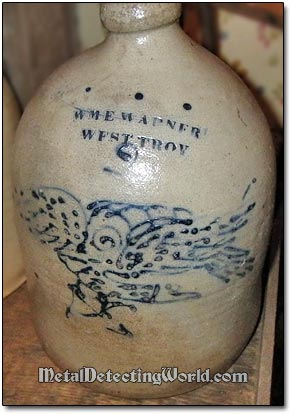 2 Gallon Ovoid Crock with Dotted Flower Decor
by WME Warner in West Troy, NY
Located in Albany County on the west bank of the Hudson River opposite the City of Troy, West Troy was incorporated in 1836 from area communities known as Washington, Port Schuyler, West Troy, and Gibbonsville. West Troy became the City of Watervliet in 1896. The Erie Canal passed through the length of the village, just south of its second junction with the Champlain Canal.
West Troy was tied culturally and commercially to the small community of Green Island and the textile center of Cohoes, both located to the north, and to the City of Troy to the east.
A large United States Arsenal was constructed at Gibbonsville after the War of 1812, and the area surrounding the Arsenal soon developed rapidly as a commercial and industrial center. Within a few years, West Troy became a major canal and river port. Its population had reached 8,306 by 1860.
The first stoneware pottery was established there by Sanford Perry in 1833 at a site along the Erie Canal on Champlain Street, and under various owners it existed there until destroyed by fire in 1845. Following that fire, Nathan Porter and George Fraser opened a new pottery at the corner of Washington and Schenectady Streets, operated under various owners until 1899.
During much of that time period, it was simply known as the "West Troy Pottery". The location of the pottery used by the "Bennington potters" has not been positively identified. This would seem likely to have been William Warner's pottery along the Erie Canal, south of Schenectady Street (the present Thirteenth Street), which may have been inoperative since 1856 when Warner apparently left West Troy to open a pottery in Toronto, Canada."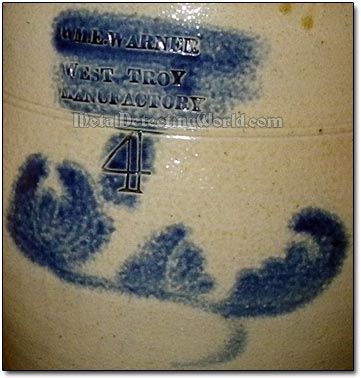 Cobalt Blue Glazed Pattern with Maker's Stamp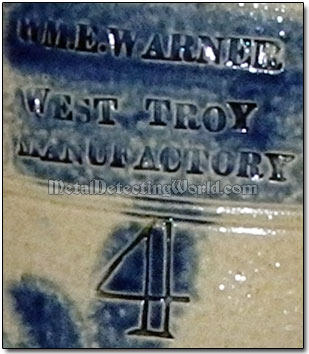 Stoneware Maker's Stamp Up Close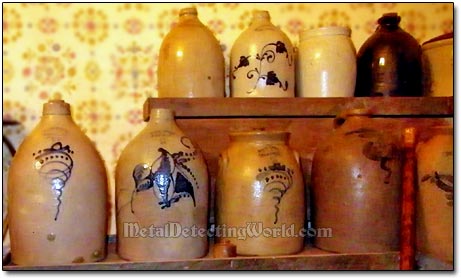 Cobalt Blue Glazed Pattern Jugs and Crock Pots
Sources: www.hudsonrivervalley.org/review/pdfs/hvrr_5pt2_broderick.pdf