Winter Treasure Hunting in Rensselaer County, Upstate New York, page 10
Driving to Hunt Site and Reminiscing About Metal Detecting in Taconics with Tim and Primo
In the morning of the next day, Tim and I left Tim's house and headed east towards our favorite area for metal detecting - the Taconic Mountains, at the eastern border of New York state. As soon as I got into Tim's truck, I immediately knew that a "picture" would not be complete without our old friend Primo, but he had a busy working schedule and could not attend this outing.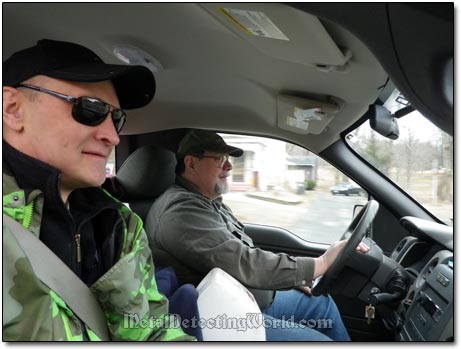 Sergei and Tim on the Way To Metal Detecting Site, February 2012
Here is how the "picture" usually looked like back in the day: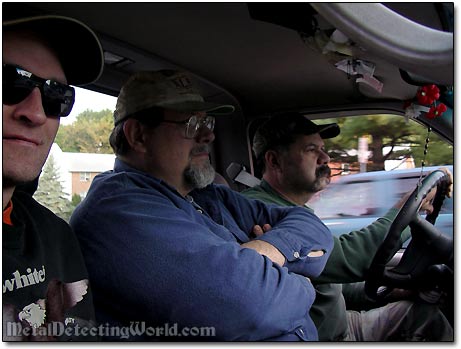 Sergei, Tim and Primo on the Way To Metal Detecting Site, September 2005
Our joint metal detecting trips were always fun because every situation would be treated with humor, and Primo would never miss an opportunity to banter with Tim and me for saying silly things or having little mishaps during metal detecting, like leaving a good signal behind, or simply for "digging up a target for two long".
I always believed that whatever happens during metal detecting hunts, all participants should remain on a positive side - keep their spirits up and do not let the absence of good signals lower their morale. When a team consists of adequate people, all projects get accomplished easily. And when there are guys like Primo in a team, all projects get accomplished with fun. As a result, at the end of a hard metal detecting day, nobody gets upset by making modest finds, and later remembers only good times spent with comrades.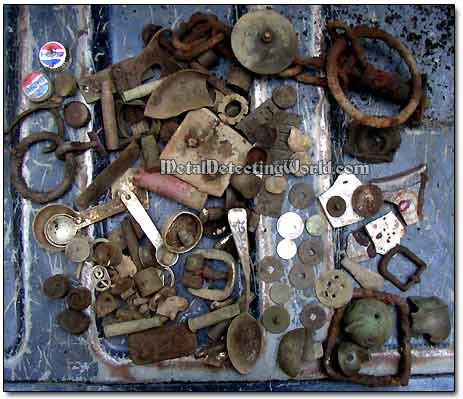 One Example of Our Modest Finds Made by Three of Us in One Day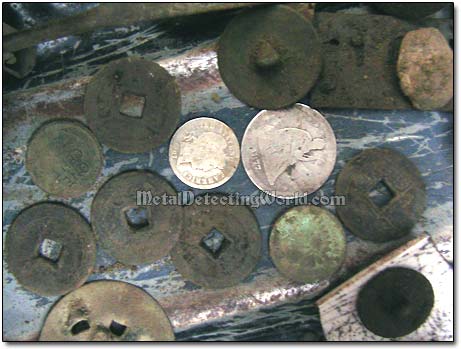 Dug Coins Up Close
One may say that this is a nice compilation of finds, but I would disagree considering an amount of places we stopped by and miles driven. However, what memory about that outing comes first to mind is that we had lots of fun. This is what counts!