Winter Treasure Hunting in Montgomery County, Upstate New York, page 4
Opening New Metal Detecting Season with Rodney in Stone Arabia in February
Our destination was a site of a French & Indian/Rev War fort located somewhere in a huge farm field near a village of Stone Arabia in Town of Palatine, Montgomery County, NY. This area saw a lot of historical events in the 18th century, and the landscape has not changed much since then: villages and hamlets are in the same spots in between the vast corn fields, where they were 200 years ago, and the initial road infrastructure laid by first settlers, now paved, is still in use today. And the Amish buggies appearing here and there nicely complete the historical landscape.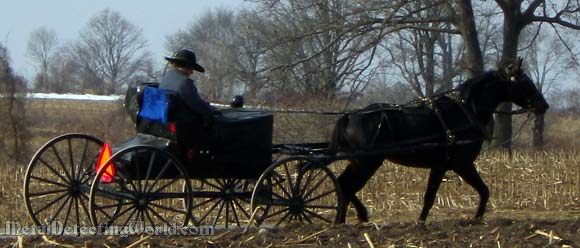 Because this township has a large Amish community, it is not unusual for locals to see the buggies sharing roads with modern cars. To me, though, these 19th century "vehicles" are a reminder of how the progress fails to take over in some parts of the state. The buggies can not compete with cars, but sure win the race with time.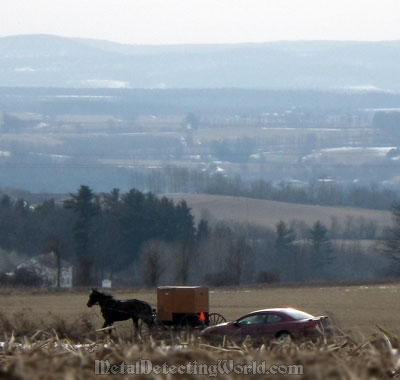 Anyway, although the exact location of the fort site in the field was unknown to Rodney, he wanted to search nothing but this place because it took him two years to secure a permission from the property owner. The farm field was huge, and the best spot to start with seemed to be an old barn standing close to a crossroads. At least, evaluation of this location in terms of types of signals still available would indicate whether or not any metal detecting activity took place here in the past.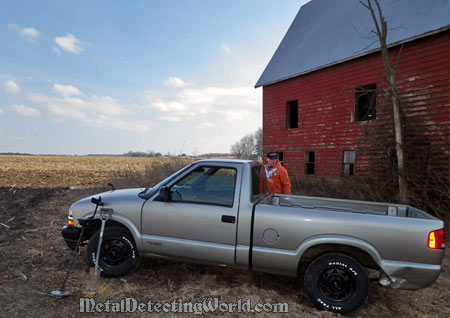 An Old Red Barn Landmarked Fort Site
I was simply excited about having an opportunity to enjoy a warm day in February, swing a metal detector in the wide open, possibly dig up some relics and smell the aroma of freshly dug soil. Of course, under different circumstances, I would spend some time analyzing old maps and determining at least an approximate position of the fort site in a vast area. Then I would use a big search coil to localize a large "nail" spot - an indication of the old fortified structure, in the field. But, at that moment, I was just looking at historical landscape and hoping for luck.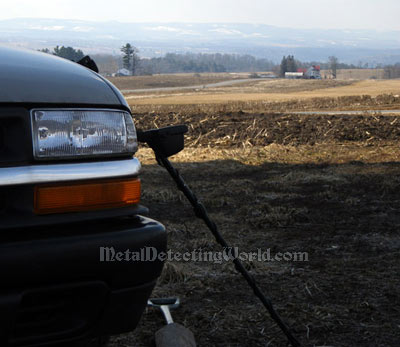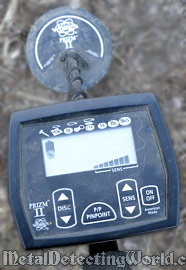 Control Panel of White's Prizm II
Out of the two unidentifiable metal detectors that Rodney provided for us, I picked up the one that did not look like a Radio Shack "toy" for $40 (Rodney took that one and did not care). Well, my choice turned out to be the White's Prizm II. To my satisfaction, it had more than one control button. I guess that sometimes it is good to return to basics for a change. As it turned out to be later, Discrimination and Sensitivity controls were all I needed for this relic hunt.
I knew that my chances in finding deep relics were slim with a 7-inch search coil which was also inappropriate for a task I had before me - to cover as much area as possible in order to locate a "hot" spot - the fort site. Well, ok, right away I remembered frozen and snowbound Finland I saw from the airplane, and I thought, "whatever I got now is in anyway much better than that!" I was ready to metal detect!