Winter Treasure Hunting in Petersburg Township, NY, page 13
Metal Detecting On Soft Ground Patch
I left Tim alone for a while and went looking for a soft ground patch on the site. My idea was to find a small mound - a raised mass of earth, which was covered by a thick layer of decomposed leaves and other vegetation, manure, peat, charcoal, etc. The ground must be soft at such spots unlike the rest of the site area. It did not take me long to find the soft patch measuring 10 x 5 feet, and, as I poked my shovel into it, the mound turned out to be exactly what I assumed it would be - really soft and easy to dig. My excitement grew more when I received a good, solid non-ferrous signal right on top of the mound!
My shovel blade went into the soil like a knife into butter. I dug a hole and noticed a round lead object lying on the bottom. It looked like a vintage insertion of some sort. It was of a round, flower-like shape and had a thread on inside. I assumed that maybe it was some kind of closure for a canning jar. I tried to identify the object by looking for anything like it on Google Images to no avail, so the object's origin remains unknown to me.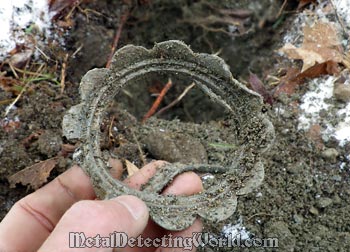 "Whatsit"
Not far from the first hole, I got another good signal, and my heart jumped a bit when I dug up a silver-like, coin-like shining object. "A coin or a token?!"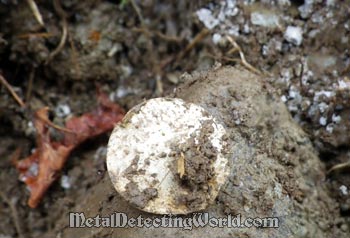 To my disappointment it was just a plain, thin aluminum roundel. Maybe it was a flan for aluminum token anyway? Whatever it was, I also had another positive thought: this hunt site had not been thoroughly searched because if some one metal detected on this patch, one could not miss the targets that I had just recovered!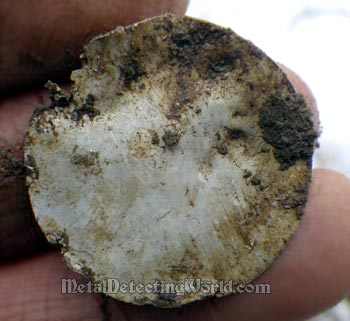 Another "Whatsit"
My subsequent finds just proved my point. One had to swing a broom stick instead of a metal detector to miss such a large copper target like this ornate brooch of the Victorian type!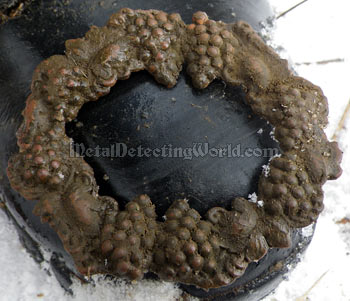 Or this copper part of an oil or kerosene lamp!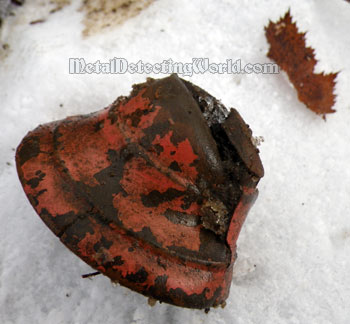 The more I explored the soft patch, the closer I was coming to an interesting conclusion: this location likely had never been searched! A "virgin" site? It was a possibility.
Smaller non-ferrous targets were represented by this modern "Brown's Beach Jacket" button...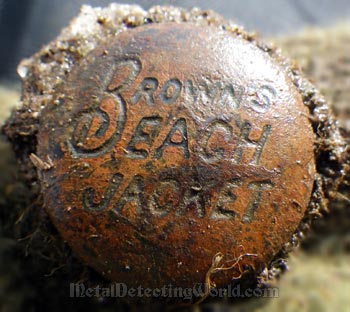 ...and a small button (cuff button) of an unusual design ('open work').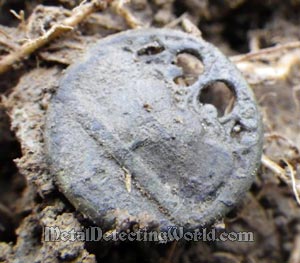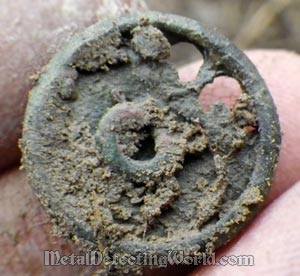 Button's Back with a Shank
Now to confirm my conclusion, I had no choice but to get off the mound and explore the ice-frozen territory. I only wished it was late spring so that the ground was diggable, and I could have painless exploration of the entire search area and create a mental picture of hot spots at this hunt site.