Winter Metal Detecting in Upstate New York, page 2
Arriving to New York
At the end of my long flight over the Atlantic ocean, when an aircraft was descending over Long Island towards JFK Airport, I looked out of an airplane window and down at the landscape below... and was taken by surprise: there was no snow on the ground! For next five seconds, I am sure, my face expressed open-mouthed disbelief: "No way! Wow!"
After the plane landed, I still could not believe what I was seeing: lots of sunshine and snowless, dry surface of the tarmac. "How long was my flight? Is it still February?" - those were my silly thoughts. But my next thought reflected both my excitement and a huge correction to my initial plan: "I'll be metal detecting sooner than I thought!"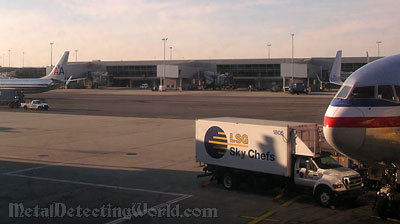 Summer-Like February Day at JFK
Being overjoyed, I ran along with other happy passengers to a Passenger-Pick-Up area to share my cheerful idea with my ex-girlfriend Shelly and her sister Ann who were waiting for me. But, this time and to my little disappointment, Shelly and Ann did not joyfully run with open arms towards me and ahead of all greeters. I found them two sitting at the other end of the pick-up area (how nice!) and enthusiastically discussing something.
Having nothing else to do, I interjected their lively discussion: "Hmm, sorry for my interruption, but... Oh! Hello Girls!" Now they gladly hugged me, and everybody were happy! But I could not resist to add a little remark (I do not know whom I quoted): "You two are like a couple of ladies who shared a prison cell for 20 years, and, after having been released, spent another three hours talking to each other outside the prison gate before going your separate ways."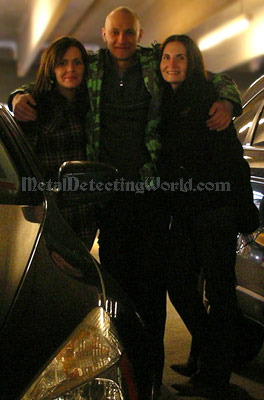 Ann, Serge and Shelly
at JFK Terminal's Parking Garage, Feb. 2012
Shelly and I used to live together in the early 2000s. And, of course, we metal detected together a lot (you may want to see my story on Discovery of A Picnic Grove - one of our many exciting coin shooting experiences). As soon as I introduced Shelly to the hobby, she quickly learned the basics of metal detecting and, in no time, was able to easily compete with me in number of finds.

Serge and Shelly During Coin Shooting
on Connecticut River Bank in 2002
When Shelly and I began treasure hunting around the Capital District, the metropolitan area surrounding Albany - New York state's capital, I had two metal detectors - White's XLT and Minelab Explorer XS, in my arsenal in 2001. Shelly right away became fond of the XLT for its light weight, superb pinpoint capability and its maneuverability. The latter allowed Shelly to be very competitive at the club competition hunts which she loved very much. At one of them, we and our team of four detectorists won all top prizes! And I got a placement into the Guinness Book of Records for my performance. All thanks go to Shelly for her strong support!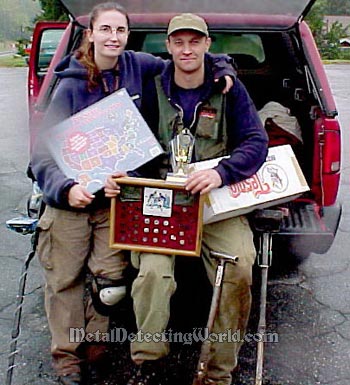 Shelly and I after Winning Top Prizes
at CASH BASH 2002 Competition Hunt
Coin shooting was not the only metal detecting activity Shelly and I were enjoying very much. Residing in the New York state's Capital region - one of the main "intersections" of the early American history, gave us an opportunity to hunt for relics and artifacts of the French & Indian War, American Revolutionary War and 1812 War periods.
Also attending meetings at the local metal detecting club - Empire State Metal Detector Association, was another way of obtaining knowledge about many historical events that took place in the area during the Revolutionary War period. Not only there were a few Rev War relic hunters among club members, who sometimes would bring amazing finds to the meetings to let everyone see and touch relic treasures, but also special guests - historians and reenactors devoted to the early American military history, would come to the meetings and give interesting and informative lectures.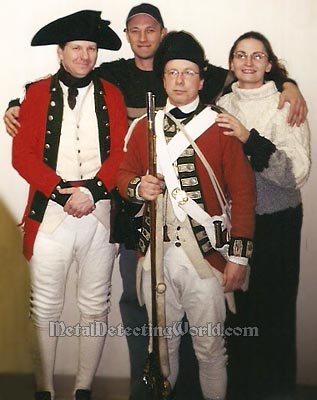 Revolutionary War Reenactors
in British Army Uniforms at Club Meeting, 2001
Being an adventurous person herself, Shelly was always eager to join me in any metal detecting outing. And she never complained or whined about anything during our sometimes extreme treasure hunts. Shelly's ability to stay on a positive side, no matter what, was always impressive.
My experience of having close relationship with Shelly made me understand that being with an extraordinary woman always brings unexpected turns in one's life road, which may "open new doors", inspire new ideas, and eventually lead to real changes for the better. For instance, this web site would not exist if it was not for a chain of events starting with my moving from the Catskills to the Capital region to be with Shelly in 2000.
And I made a few great achievements (getting into the Guinness Book of Records was one of them!) while being with her. Yes, there is certainly truth in saying, "No man succeeds without a good woman behind him." Having had lots of fun and done many things together tied such a strong bond of friendship between us that, after we split up, we remained good friends.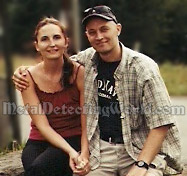 Shelly & Serge in 2005