Winter Treasure Hunting on Rensselaer Plateau in NY, page 11
Driving on Route 2 Through Grafton to Metal Detecting Site
We continued driving on route 2 towards Grafton township, and the road was gradually ascending. The snow was not visible anywhere, even at the eternally shaded spots of the landscape. But we had driven on this road a thousand times before and knew that as soon as we get to elevated areas, the air temperatures would drop, and weather conditions may quickly change to the opposite.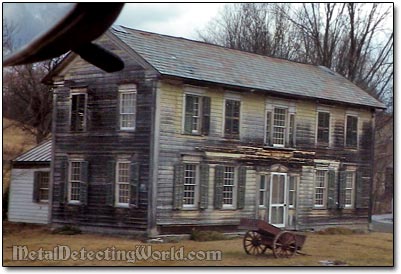 Rustic Colonial House/Inn
When we rolled in a village of Grafton, I could not say anything but "it can't be real...". And I was wondering what Primo would say looking at the snowbound landscape. A voice in my head (not really) said, "Here is your Finland, Sergei!"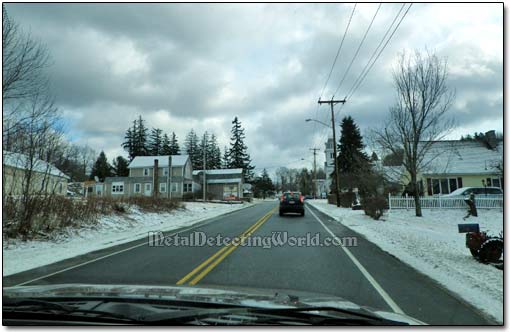 Grafton Under Snow
Before we got to the "Finland part" of our ride, I had told Tim about the lack of success (to say it politely) Rodney and I had in Montgomery county a few days ago. So Tim was prepared to be reminded of a fact that February was not over yet. I mentally tried to figure out how thick was a layer of snow, but we had not got to the highest point of elevation yet.
A Brief History and Geography of Grafton:
Formerly known as Roxborough, the town was renamed Grafton by the first town supervisor, Nathaniel Dumbleton, who was originally from Grafton, Vermont. Although the question of the first settlement of Grafton has never been answered, the town was the last in Rensselaer County to be settled. Grafton was formed from the towns of Troy and Petersburgh in 1807, and even at this comparatively late historical date it had only a few inhabitants. Those who settled in unattractive mountain wilderness and built log houses were sturdy farmers and indefatigable laborers. Back then, this area was thought to be the best land in the wilderness adapted to farming. It is assumed that soldiers of the Revolutionary War moved to this area first and began the cultivation of the land several years after the war was over.
Grafton is located on the Rensselaer Plateau - a forested mountain range between the Taconic and Hudson Valleys, and situated in the foothills of the Taconic Mountain range. Some parts of the township are included into the region's most celebrated state parks and forests where there are 26 lakes, many natural landmarks and places of interest to visit by avid outdoorsmen. Grafton is 15 miles east of Troy, 14 miles west of Williamstown, Massachusetts, and 16 miles from Bennington Vermont. NY Route 2 passes across the town.
And we were now at the highest point of the road approaching the Petersburg township, and enjoying a view on the Taconic Mountain range a few miles away.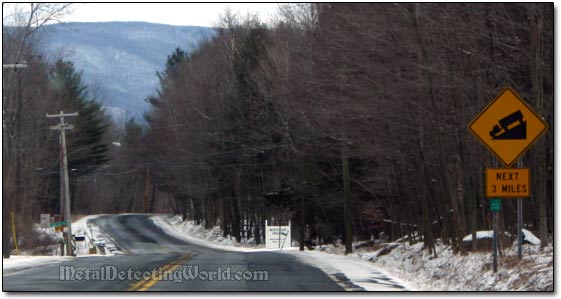 Descending on Route 2 Going East Towards Petersburg Township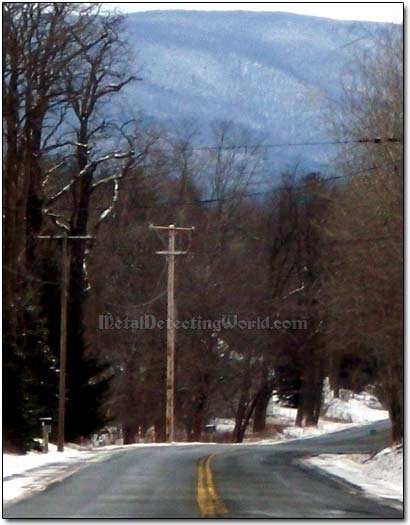 There are many cellar holes in the area, some being visible even from the route 2. If you take any dirt side road off the route 2 and drive slow while observing the forested lots marked by old stone walls, you will sure spot a cellar (you may want to read my article on How To Metal Detect Around Cellar Holes Successfully). While metal detecting around these mountainside cellars, I found quite a few silver Barber and Seated Liberty Dimes (one of them is shown below). Of course, here I also found Large Cents, 'Indian Heads' and other kinds of coins, even Spanish 8-Real pieces, but, unlike other coins, none of the Dimes I dug up in this area was worn out. So I called this area a "Silver Dime Plateau".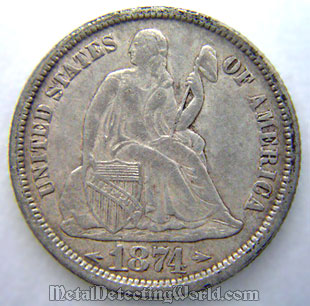 1874 Seated Liberty Dime
I Found Near a Cellar in This Area