Teknetics T2 Metal Detector, page 2
User Review, Search Program Settings for Various Detecting Tasks and Conditions, and Finds Made With T2
(...CONTINUED from Previous Page)
"...Teknetics T2 is deep, very fast and it will make you look good! I think the T2 is the best machine out there for all terrains and will give you hours of fun. Oh yeah, I do not work for Teknetics. I do not know anyone that does. And I am the most horrible customer anyone can have - I just love to complain!
So far I have found many silver coins, several gold-plated coins and several Saxon artifacts. You may say that I had some stunning finds including an Edward VI 1551 Irish shilling with a Harp mint-mark - one of the rarest coins around!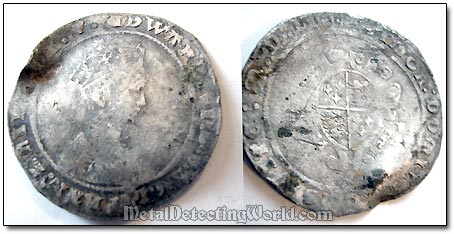 1551 Irish Shilling, King Edward VI
I LOVE this metal detector! I feel I have to add that I have now had the T2 for 12 months and had a good time out there in the fields to get to know the machine. Please do take the time to get used to it before you judge it. If you get the T2, you will not be sorry!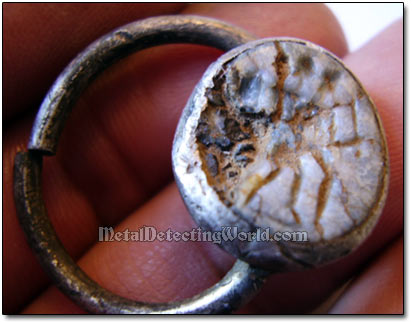 Roman Seal Silver Ring
Below are the settings I use, but my favorite one is this: Sensitivity - at 85, Discrimination - at 4, Tone - at 2+, Frequency - at F7. Dig the high tones and leave the grunts!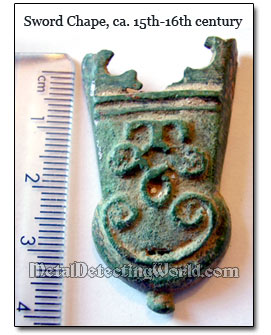 SUGGESTED SETTINGS for Teknetics T2:
Beach: Sens-90, Disc-40, Tone-3b
Relic Hunting: Sens-90, Disc-10, Tone-+3
Ground Littered w/Iron (1): Sens-75, Disc-18, Tone-Dp
Ground Littered w/Iron (2): Sens-70, Disc-15, Tone-2+
Stubble: Sens-75, Disc-25-35 (Cut out iron), Tone-1
Ancient Sites: Sens-85, Disc-4, Tone-2+
Hard Ground: Sens-75, Disc-18, Tone-Dp
Coin Shooting: Sens-95, Disc-35, Tone-1 (Dig everything, no hangover)
Riverbank: Sens-90, Disc-35, Tone-1
Pasture: Sens-80, Disc-50 or 4, Tone-2+
Dig Everything: Sens-90, Disc-5, Tone-1
When in Doubt, Dig!
Good hunting!"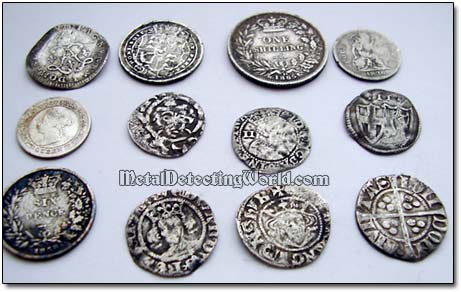 Silverman777's Silver Coin-Finds
You can read the Teknetics T2's specifications and reviews on Reviews for Teknetics T2 Page.
If you would like to point out any errors, express your opinion, or submit your own review, please do not hesitate to send me a message!
If you would like to follow me on Twitter, please press a button:
Find me on Google+, and I also have a Google+ Page: "Metal Detecting World"