How To Clean Coins with Electrolysis - A Detailed & Illustrated Tutorial, page 7
Making a Simple Coin Electrolysis Machine of "CLASSIC" Type
(...CONTINUED from Previous Page)
How To Strip Wire Ends with a Knife
Using the above-described technique, strip away about one inch of insulation from the tip of each wire.
Stripping Wire End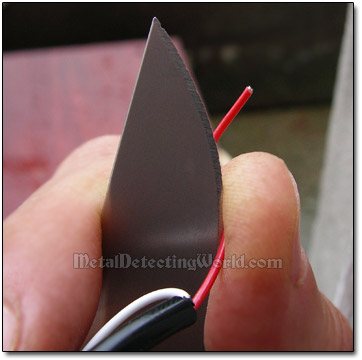 Sliding Wire Insulation Off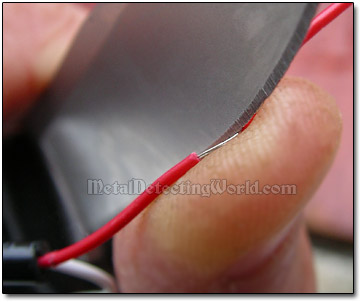 Now you have each wire with loose strands at its end.
Bare Bunched Wire Strands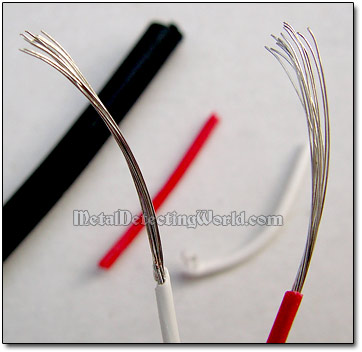 Twist the bare strands so that you could make a good electric contact while connecting each wire terminal to alligator clips or other wires later.
Twist Bare Strands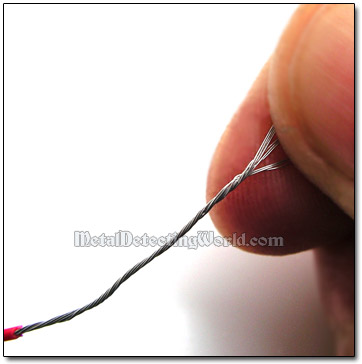 After you twist the bare strands, they should look like the strands shown on a picture below. If you wish to have solid connections between these and other wires, you can coat them with solderer and then solder each wire to another wire of the corresponding color (see details in the "Soldering" section on page 32 of my "Electrolytic Rust Removal" tutorial).
Bare Wire Ends with Twisted Strands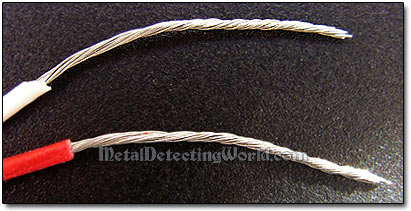 As the two cable wires are thin and susceptible to breaking off inside their casings due to frequent bending, the cable should be reinforced with thicker wires to avoid losing electrical contact during operation. Prepare two 12 gauge wires of corresponding colors, which can withstand frequent straining, twisting and bending.
Additional 12 Gauge Wires of Corresponding Colors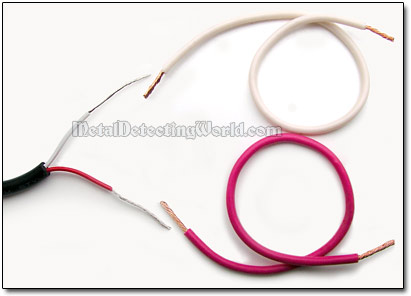 Number of pages: < Previous | 1 | 2 | 3 | 4 | 5 | 6 | 7 | 8 | 9 | 10 | 11 | 12 | 13 | 14 |

| 15 | 16 | 17 | 18 | 19 | 20 | 21 | 22 | 23 | 24 | 25 | Next >