Metal Detecting Village Kozheritsy Site, page 2
Be Prepared For Many Unexpected Situations That Can Occur During Treasure Hunting
I called my buddy Forrest and told him about a potentially good site for metal detecting. On the next day, Forrest, his girl friend Yulya , our friend Adik, and I, all four of us, packed ourselves into Forrest's Luaz, legendary Soviet jeep, and left the city in the late afternoon.
Forrest's vehicle is the best for treasure hunting trips but unfortunately Forrest spends more time repairing it than driving. As it was expected, Luaz broke down on the way to the site.
While Forest was unloading the vehicle to get all the necessary tools, the rest of us wondered off looking for the firewood. We knew that we were going to have a long lunch when Forest squeezed himself under Luaz and began making some metal-banging noises.
Forrest Is Under His Jeep Repairing Something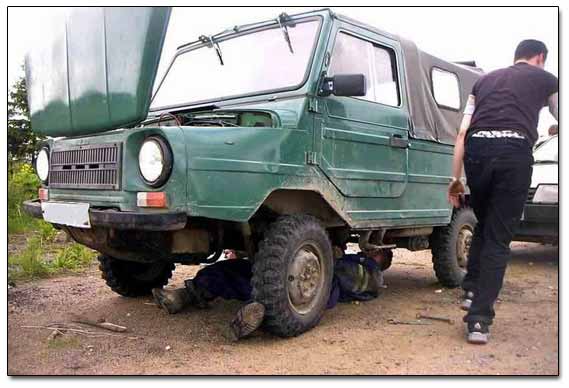 After a couple of repair hours had passed, we continued our trip and arrived at the site in the evening. Armed with detailed topographic maps, I found the location easy this time. We set up a camp in the field next over, away from any passerby view.
Forrest And Adik Are Trying To Make A Campfire
After we ate our dinner, which consisted of canned meat and instant noodles, we decided to check the field for any good signals. The good thing was that the grass was not very tall and thick.
The bad thing was that the only targets we were getting were the K98 (German Mauser rifle) fired brass casings, fragments of the artillery projectiles, and brass splinters. They were everywhere!
It only proved that this area got a lot of WW2 military action during the battles for Leningrad in 1941-1944. The military junk tired us to the point of total exhaustion. We called it a day, returned back to our camp, and went to sleep.
While we were night hunting, a watchman from loggers' camp nearby came to our camp and told Yulya that he saw us arriving earlier and was wondering what we were up to. After she explained the purpose of our visit, he told her about two treasure hunters who had been coming to the field every week to metal detect. The news were disappointing to us but knowing that most treasure hunters in the area would search with high discrimination, we were sure we would unearth many nice leftovers.
We started next morning with hot coffee, a good booster for blood circulation that usually stops during the cold night.:) Everyone was holding a cup of coffee in shaking hands and thinking about a possibility of making a breakfast.
Adik Is Recovering From The Cold Night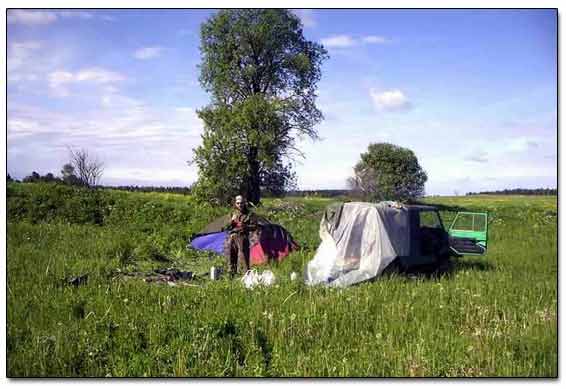 After the meal, while everybody was just doing nothing, Forrest enthusiastically grabbed his metal detector and asked me where to go searching. I pointed my hand out in the direction of a small hill in the neighboring field. There was a single tree on the hill top.
I suggested to Forrest to metal detect while walking towards a landmark. 10 minutes had not passed, as Forrest came back without his machine and shovel, big smile on his face! He was holding a large coin in his hand. It was Forrest's pure luck that he discovered a rare coin randomly swinging the coil in the middle of the huge field. We rechecked the spot later and found nothing.
1726 5 Kopeks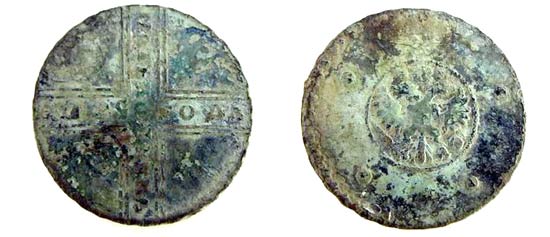 Number of pages: < Previous | 1 | 2 | 3 | 4 | 5 | 6 | 7 | Next >