Relic Hunting in Finland
Medieval Relics Found by Markus and Tapio, page 3
A great representative of Scandinavian style, Karelian style in particular, in fibulae is this tortoise fibula or oval brooch. You can read more on this type of fibulae in my story - Metal Detecting in Karelia, p36. This fibula is in great condition and intact: a bronze tine of safety pin is still attached on the back.
Bronze Tortoise Brooch, circa 10th Century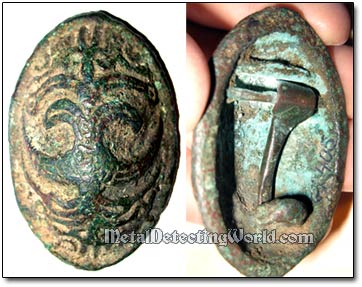 Next find is a very impressive bronze ring with an expanded lozenge bezel. The massive hoop is partially cracked. The ornate design has a central boss and four smaller bosses, all grooved.
Bronze Late Medieval Ring with Lozenge Bezel, ca. 10th Century

Markus' finds include two bronze rings with bezel designs depicting beasts; 15th-17th century or earlier.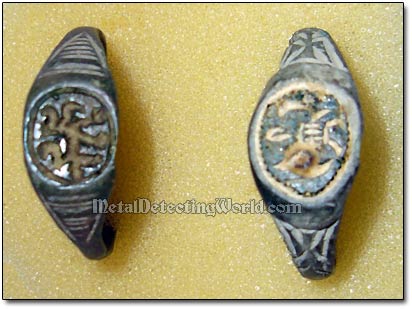 This find could be a medieval bronze hasp - the plate with cut out rectangular holes to take the hooked part of the clasp. The clasps were used on clogs and shoes, particularly in northern Europe where clogs were very popular.
Front and Back of Late Medieval Bronze Hasp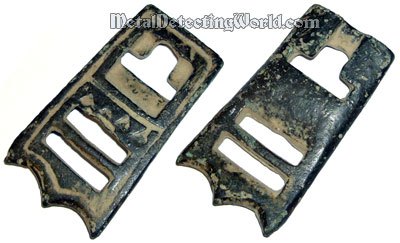 The following picture shows a group of small bronze artifacts, excluding two lead musket balls, that can be dated from the 14th to 18th centuries.
Assortment of Small Relics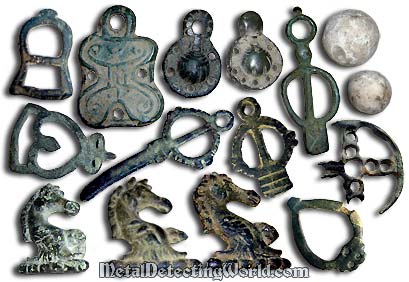 Assortment of Civilian and Military Buttons, circa 16th-19th Century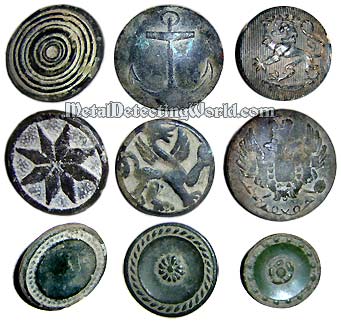 Number of pages: < Previous | 1 | 2 | 3 | 4 | Next >