Relic Hunting & Metal Detecting
Viking Artefacts Found by Markus and Tapio in Finland
Markus has been metal detecting since 2008. He is currently using Minelab X-Terra 70.
Markus Detecting Coins in a Field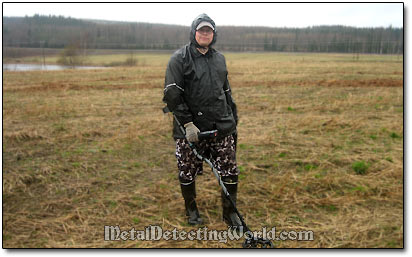 Tapio has been relic hunting since 2001. He is currently using Minelab E-Trac with a stock search coil.
Tapio Relic Hunting on Lake Shore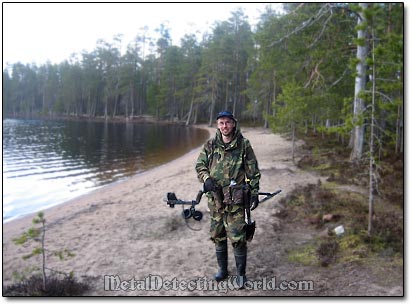 One of Tapio's remarkable finds was an openwork circular pendant from the Viking period. The design represents the 9th century Jellinge and Borre styles of the Scandinavian art. The pattern comprises four intertwined ribbon-like animals, "S" in shape, each having a zoomorphic head as a terminal decoration. These triangular shaped heads with long muzzles, ram horns and oval eyes are positioned at four ends of a cross.
Viking Pendant of Scandinavian Borre Style, circa 9th Century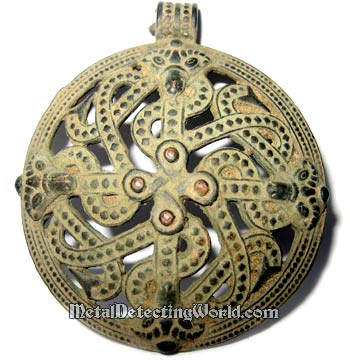 Another find is also an openwork item, possibly a hat brooch of an Urnes style. This style represents the last of the pagan art forms in Scandinavia. In the 12th century, it developed into medieval Romanesque style through Christian influence. As I have not seen this relic "in person," I'm not certain if it dates to the 11th century, but it is possible.
Hat Brooch of Urnes Style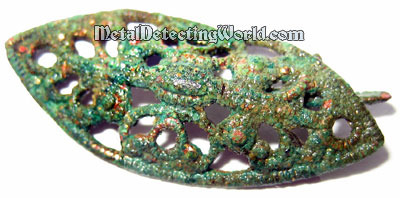 Number of pages: < Previous | 1 | 2 | 3 | 4 | Next >
Sources: en.wikipedia.org