How To Make Metal Detector's Operation Wireless - Tutorial, page 11
Attach A Digital Transmitter Module to Detector's Armrest Properly
The third and final part of my project was to attach the wireless module assembly to the metal detector's armrest. Even though this is an easy task, a few important requirements should be satisfied. First, the harnessed cable should be attached to the armrest last and independently of the transmitter's case, i.e. not with the same zip ties. If necessary, make additional holes in the armrest for the cable zip ties beforehand.
Second, a "free" end of the cable must be of an optimal length, not too short and not too long, so that it could be easily plugged into the detector's jack without strain but would not be loosely getting in the way of your arm.
Optimal Length of Free-Moving Cable End with Plug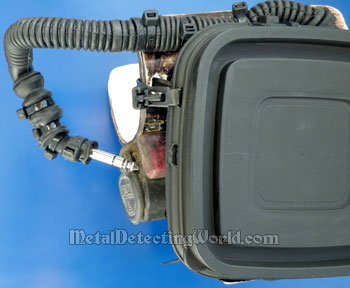 When plugged into the detector's headphone jack, the harnessed cable should be out of the way of your arm, both in the back...
Harnessed Cable is Out of Way in Back of Armrest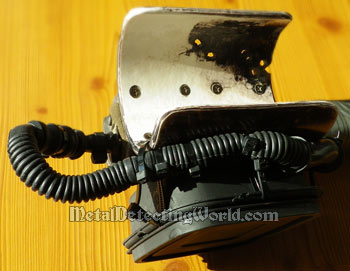 View from A Different Angle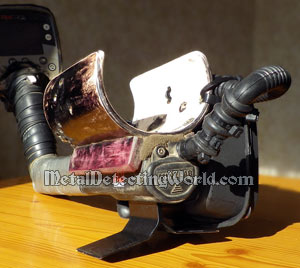 ...and in front of the armrest.
Cable Is Not In the Way In Front of Armrest
Third, when an arm is placed into the armrest, an elbow should not put any pressure onto the harnessed cable as shown below.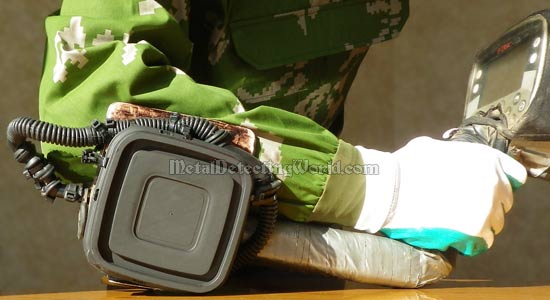 At last, run a final continuity test of your wireless module assembly. Just remember to TURN YOUR METAL DETECTOR OFF before connecting the wireless transmitter module to it! (And make sure you do it every time before you begin metal detecting in the field!) If everything works fine, you got a semi-wireless metal detector! It is ready for action, and you are back to being competitive again and without a "leash"!
The total weight of the wireless transmitter module is 228 g. In case of the E-Trac metal detector, this additional weight still places the total combined weight of the E-Trac (2.7 kg (6 lbs)) below the weight of the Minelab's latest model - CTX 3030 (2.9 kg (6.6 lbs))! And the digital wireless Sennheiser headphones are lighter than the standard UR-30 corded headset.
You may have designed a better wireless headphone setup. If you are willing to share your ideas with the metal detecting community, please submit them here! My website's purpose is, and has been from the beginning, to provide visitors with a "thought tank" that can fuel other "thought engines", and you can always contribute to the process of knowledge expansion!
Metal Detector is Ready for Headphone Wireless Operation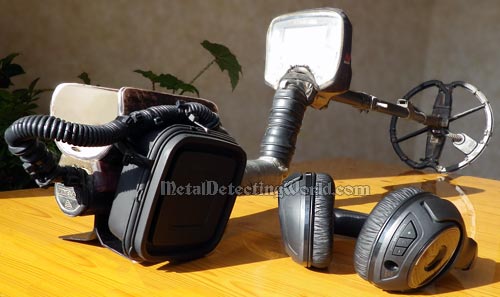 Of course, there are new digital wireless headphone systems appearing on the today's market. But the Sennheiser RS-160 system is quite sufficient to make any land metal detector's headphone operation wireless, including metal detectors equipped with Sun Ray in-line probes. I can not see a single disadvantage in this wireless headphone setup. Try it and see it for yourself! I do not think you will be disappointed.
Happy Wireless Treasure Hunting!
Number of pages: < Previous | 1 | 2 | 3 | 4 | 5 | 6 | 7 | 8 | 9 | 10 | 11 |
Useful Articles page | Secrets for Beginners | Metal Detector Reviews Worldwide | My Metal Detecting Stories | Home