How To Make Metal Detector's Headphone Operation Wireless - Tutorial, page 10
Digital Wireless Module Assembly with Connecting Cable
The last segment of the transmitter-to-detector connecting cable to be encased was its terminal with an 1/8" socket-to-1/4" plug adapter. If the cable's 1/8" plug is plugged into a straight 1/8"-to-1/4" adapter, a combined length of the plug/adapter piece would be excessive, and the piece would stick out of the metal detector's phone jack too much; thus, increasing chances of damaging either the plug or the phone jack during metal detecting. And a longer free-hanging piece of the cable would be required. To avoid all that, I used a right-angled adapter.
Stereo 1/8-inch Female To 1/4-inch Male Right Angle Adapter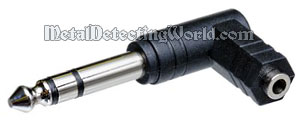 I used the above-described technique to harness the terminal length of the connecting cable. And I made sure the end of the rubber harness was tightly fastened onto the adapter with zip ties so that the harness would not be pulled off when I grab it to unplug the cable. An 1/8" plug/socket joint inside the harness was secured with an additional rubber tube fitted externally over both connectors to prevent accidental disconnection.
Harnessed Cable's Terminal with 1/4-inch Male Plug of Adapter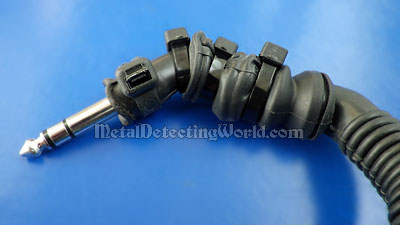 Now the cable harness was completed, and the cable was fully protected against moisture, dirt, dust and getting accidentally caught by sticks, roots, digging tools, gear, etc.
Full Assembly of Wireless Transmitter Module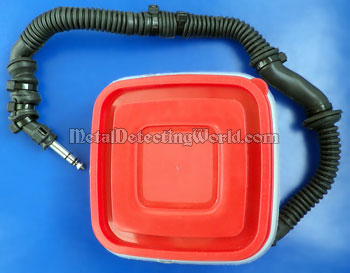 View from Different Angle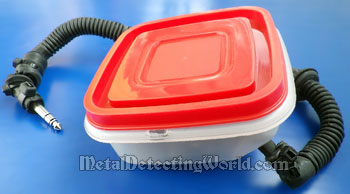 To blend the transmitter's protective case into the detector colors and/or make it not stick out as an eye-catching, bright red "what is it?", I sprayed it with All Purpose Matt (Flat, Satin) Black Paint. Do not spray the container with Gloss paint if you do not want the flat lid's surface to reflect sun rays.
Spray Transmitter's Container with All Purpose Matt Black Paint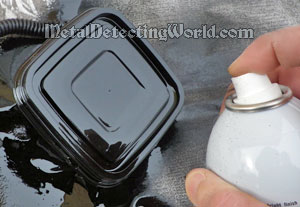 Number of pages: < Previous | 1 | 2 | 3 | 4 | 5 | 6 | 7 | 8 | 9 | 10 | 11 | Next >