Spanish Silver Reales Coins page 3
Portrait Type and Cup & Ray Type
PORTRAIT TYPE
(continued from Page 2)
Out of all Spanish 8 Reales coins that I have found, the coin shown below is the only piece of eight that is not silver. At the moment of its recovery, this coin puzzled me because it was neither as shiny as a silver coin nor had a green patina which is characteristic for copper coins. It was of the color you can see on the picture, and it had some gleam of white metal especially on its edge. It could be possibly a counterfeit coin made of some copper/silver alloy.
1805 8 Reales (Piece of Eight) Copper and Silver Alloy Coin, Carlos IV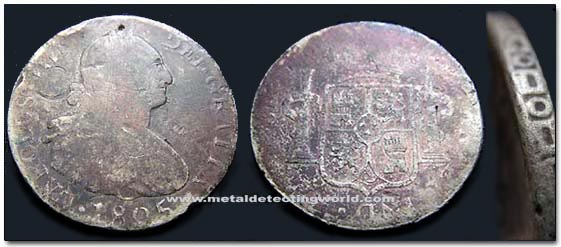 1817 1 Real Silver Coin, Ferdinand VII
CAP & RAY TYPE:
Silver coins depicting the liberty cap were minted from 1823-1909. This silver coin was the standard medium of exchange throughout the Far East and North America. Its design is based on classical motifs and Mexican mythology.
Example of Design on Modern Silver 1933 1 Peso Silver Coin, Mexico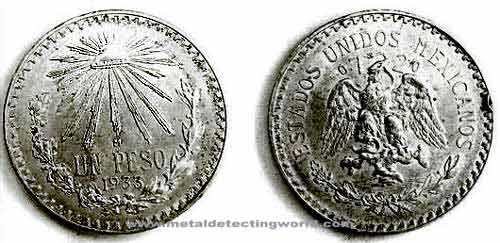 Number of pages: < Previous | 1 | 2 | 3 | 4 | Next >
Numismatic Corner | US Coins Page | Coin Photo Galleries page | MetalDetectingWorld Home