Spanish Silver Real Coins page 2
Pillar Type and Portrait Type Coins
(continued from Page 1)
The CARLOS and JOHANNA Series:
The first silver coins struck at the first mint in the Americas were authorized under the realm of Carlos and Johanna of Spain. The design features the quartered Shield of Spain showing the castle of Castile and the Lions of Leon with a small pomegranate of Grenada in the middle base. When Philip, first of the Bourbon kings, assumed the throne, he had the shield redesigned to display the three fleurs-de-lis of the Bourbons in the center.
Shield Of Spain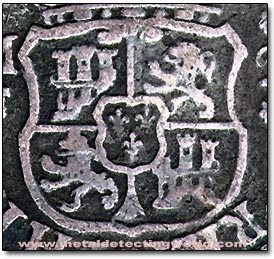 PILLAR TYPE:
In 1732, a new design was introduced featuring the Pillars of Hercules and the twin globes of the Old and New Worlds united under the crown of Spain - representation of Spanish possessions in the Old and New World. The reverse incorporated the monarch's coat of arms, name, and the proclamation: King of Spain and the Indies. These coins were minted from 1732 to 1771. The Coulumnario, or Pillar Dollar, is regarded as the first "universal" coin.
1762 1 Real, Carlos III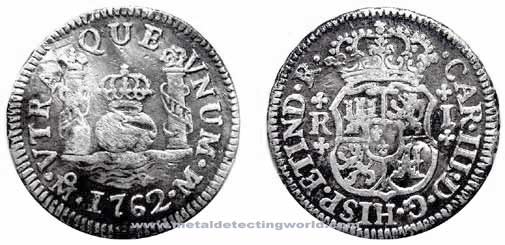 PORTRAIT TYPE:
Bust-type coins, minted from 1772-1821, carry the effigies of Carlos III, Carlos IV, and Fernando VII. It was the most popular and accepted coin of America's earliest colonists.
1781 1 Real, Carolus III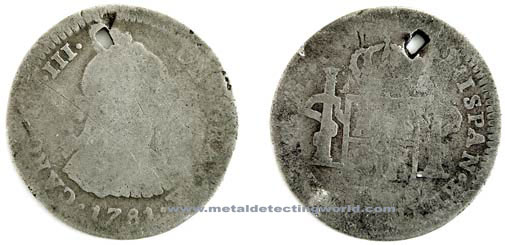 1782 1 Real, Carolus III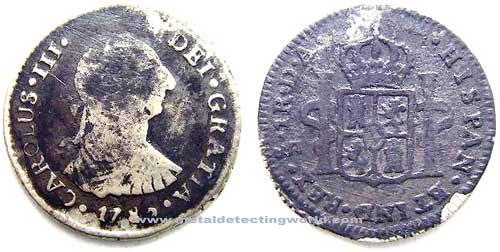 1793 2 Reales, Carlos IV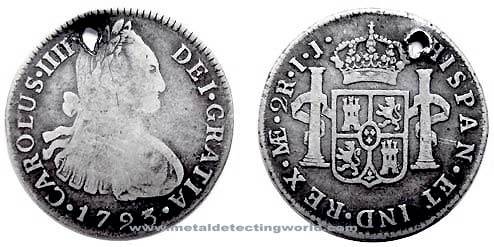 Number of pages: < Previous | 1 | 2 | 3 | 4 | Next >
Numismatic Corner | US Coins Page | Coin Photo Galleries page | MetalDetectingWorld Home