US Quarter Dollars 1892-1930
(continued from Page 1)
This page describes all types of the US Quarter Dollars minted from 1892 through 1930, and includes their specifics, mintage records, key dates, coin values (in G-4 and EF-40 conditions) and images of a few types (not all) that were recovered at various locations in the North-East USA.
BARBER or LIBERTY HEAD TYPE 1892-1916
Like other silver coins of this type, the "Barber Quarters" minted from 1892 to 1916 were designed by Charles E. Barber and named after him. The designer's initial B is found at the truncation of the Liberty's neck.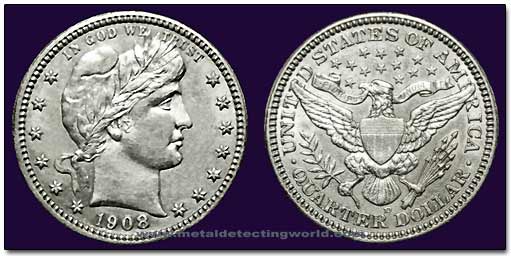 Mint mark location is on the reverse below the eagle.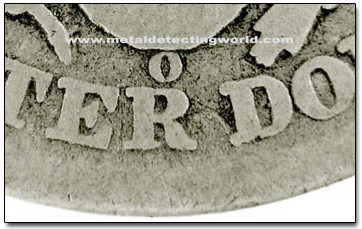 There are two varieties of the 1892 reverse:
• Eagle's wing covers only half of E in UNITED (1892 Only)
• Eagle's wing covers most of E in UNITED (1892 Only).
Coins of the first variety are scarcer than those of the second variety.
Specifics:
Diameter: 24.3 mm
Weight: 6.25 grams
Edge: Reeded
Composition: .900 silver, .100 copper
Net Weight: .18084 oz. pure silver
Quantity minted: 264,688,091
Mints: Philadelphia, Denver, New Orleans, San Francisco
Designer: Charles E. Barber
Key-Dates and Coin Values:
• 1892S; G-4: $15.00, EF-40: $130.00
• 1896S; G-4: $280.00, EF-40: $1,750
• 1897S; G-4: $15.00, EF-40: $280.00
• 1901O; G-4: $20.00, EF-40: $350.00
• 1901S; G-4: $1,800, EF-40: $7,600
• 1913; G-4: $12.00, EF-40: $385.00
• 1913S; G-4: $445.00, EF-40: $3,500
• 1914S; G-4: $55.00, EF-40: $380.00
Average coin values of other dates: G-4 - $6.00, EF-40 - $75.00
STANDING LIBERTY TYPE 1916-1930
This type quarter was designed by Hermon A. McNeil, his initial is located above and to the right of the date. In 1917, due to the public resentment to Liberty's exposed breast, the coin's design was modified. In 1925 a depression was made in the pedestal on which Liberty stands and which bears the date. On the earlier issues the dates wore off easily because they were too high and were not protected by other features of the coin.
VARIETY 1 - No Stars Under Eagle, 1916-1917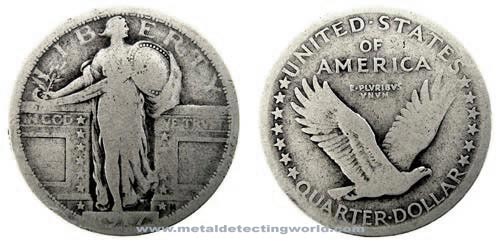 Mint mark location is on obverse at left of date.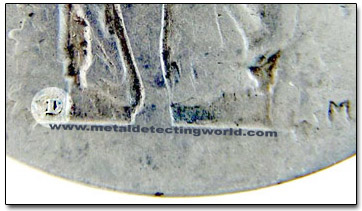 VARIETY 2 - Stars Under Eagle, 1917-1930, Recessed date Style 1925-1930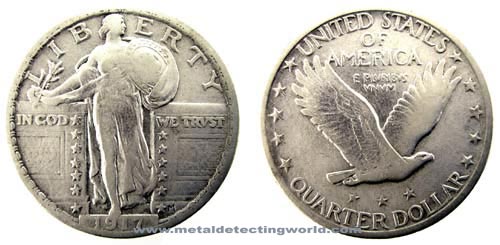 Specifics:
Diameter: 24.3 mm
Weight: 6.25 grams
Edge: Reeded
Composition: .900 silver, .100 copper
Net Weight: .18084 oz. pure silver
Quantity minted: 278,769,600
Mints: Philadelphia, Denver, San Francisco
Designer: Hermon A. McNeil
Key-Dates and Coin Values:
• 1916; G-4: $1,325, EF-40: $3,450
• 1917S Variety 1; G-4: $18.00, EF-40: $135.00
• 1917D Variety 2; G-4: $27.00, EF-40: $95.00
• 1917S Variety 2; G-4: $22.00, EF-40: $80.00
• 1918D; G-4: $22.00, EF-40: $85.00
• 1918S, 8 over 7; G-4: $1,150, EF-40: $4,525
• 1919D; G-4: $65.00, EF-40: $325.00
• 1919S; G-4: $65.00, EF-40: $400.00
• 1921; G-4: $75.00, EF-40: $300.00
• 1923S; G-4: $155.00, EF-40: $465.00
• 1924D Variety 2; G-4: $32.00, EF-40: $95.00
• 1924S Variety 2; G-4: $22.00, EF-40: $95.00
• 1927S; G-4: $10.00, EF-40: $1,000
Average coin values of other dates: G-4 - $15.00, EF-40 - $55.00
Number of pages: < Previous | 1 | 2 | 3 | Next >
Numismatic Corner | US Coins Page | Coin Photo Galleries page | Silver Reales page | MetalDetectingWorld Home
(Sources: Encyclopedia Of U.S. Coins by Mort Reed and The Official Red Book of United States Coins by R.S. Yeoman.)