US Dollars: 1979 to Date
(continued from Page 4)
SUSAN ANTHONY DOLLARS 1979-1999
To honor Susan B. Anthony, a pioneer in women's rights, legislation dated October 10, 1978, provided for the issuance of the Anthony dollar coin. Placement of Susan Anthony's likeness on the dollar represented the first time that a woman, other than a mysthical figure, has appeared on a circulating U.S. coin. The reverse design is the same as that used on the Eisenhower dollar.
The size of this coin caused it to be confused with the quarter and half dollar, and it failed to gain widespread public acceptance. No coins were made for circulation from 1981 to 1998. In 1999 additional pieces were struck to meet the needs of vending machines.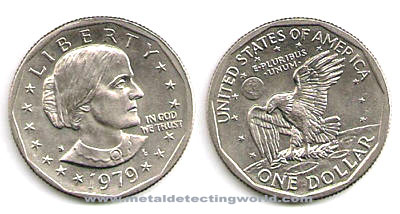 Mint marks P, D or S appear on the obverse, slightly above Anthony's right shoulder.
Mint Mark Location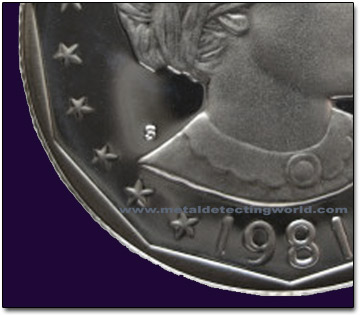 Specifics:
Diameter: 26.5 mm
Weight: 8.1 grams
Composition: outer layers of .750 copper, .250 nickel bonded to inner core of pure copper.
Edge: Reeded
Quantity minted: 909,879,516
Mints: Philadelphia, Denver, San Francisco
Designer: Frank Gasparro
Key-Dates and Coin Values:
• 1979 Wide rim; MS-63: $10.00
• 1979S Proof, clear S; Proof-65: $100.00
• 1981S Proof clear S; Proof-65: $160.00
Average coin values of other dates: MS-63 - $3.75
SACAGAWEA DOLLARS 2000-Present
The obverse design depicts Sacagawea, a young Native American Shoshone as conceived by artist Glenna Goodacre. On her back she carries jean Baptiste, her infant son. The reverse shows an eagle in flight designed by mint engraver Thomas D. Rogers, Sr. The composition exemplifies the spirit of Liberty, Peace, and Freedom shown by Sacagawea in her conduct as interpreter and guide to explorers Meriwether Louis and William Clark during their famed journey westward from the Great Northern Plains to the Pacific.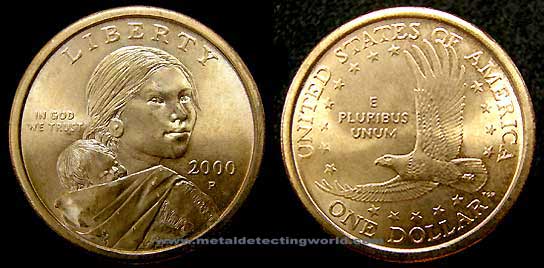 This coin has a distinctive golden color and a plain edge to distinguish it from other denominations or coins of a similar size. The change in composition and appearance was mandated under the United States Dollar Coin Act of 1997.
Specifics:
Diameter: 26.5 mm
Weight: 8.1 grams
Edge: Plain
Composition: pure copper core with outer layers of manganese brass ( .770 copper, .120 zinc, .070 manganese, and .040 nickel)
Quantity minted: 1,462,503,024 (to date)
Mints: Philadelphia, Denver, San Francisco; 22-karat gold numismatic specimens struck at West Point
Designers: Obverse Glenna Goodacre, Reverse Thomas D. Rogers, Sr.
Unexplained error coins made from mismatched dies (a 50-state quarter obverse conbined with a Sacagawea dollar reverse) are extremely rare.
PRESIDENTIAL DOLLARS 2007-2016
The United States is honoring the US presidents by issuing $1 circulating coins featuring their images in the order that they served, beginning with Presidents Washington, Adams, Jefferson and Madison in 2007. The United States Mint will coin and issue four Presidential $1 Coins per year, and each will have a reverse design featuring a striking rendition of the Statue of Liberty. The composition of the new Presidential $1 Coins will be identical to that of the Golden Dollar featuring Sacagawea.

2007 John Adams Dollar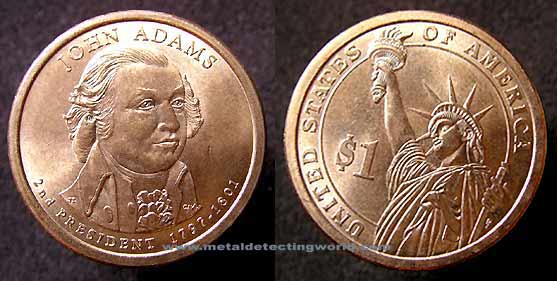 John Adams served as the second President of the United States from 1797 to 1801. Adams served as George Washington's Vice President for two terms, and a U.S. Senator from Massachusettes to the Continental Congress before that. Adams was on the committee which drafted the American Declaration of Independence and was influential in its preparation. The John Adams Dollar has a companion coin in the First Spouse gold coin series, minted in solid 24k gold bullion to honor Abigail Adams.
The obverse of the John Adams Presidential Dollar was designed by U.S. Mint Artistic Infusion Program Master Designer Joel Iskowitz, and sculpted by U.S. Mint sculptor-engraver Charles Vickers. The reverse of the Adams dollar depicts the Statue of Liberty, designed and sculpted by U.S. Mint sculptor-engraver Don Everhart.
The Statue of Liberty reverse is the same as the one used for the Washington Presidential Dollar, and will remain in use throughout the entire Presidential Dollar series.
Specifics:
Diameter: 26.5 mm
Weight: 8.1 grams
Edge: Plain
Composition: pure copper core with outer layers of manganese brass ( .770 copper, .120 zinc, .070 manganese, and .040 nickel)
Quantity minted: n/a
Mints: Philadelphia, Denver, San Francisco; 22-karat gold numismatic specimens struck at West Point
Presidential Dollar Program Mintage Schedule:
2007:
• 1 George Washington Years Served: 1789-1797
• 2 John Adams Years Served: 1797-1801
• 3 Thomas Jefferson Years Served: 1801-1809
• 4 James Madison Years Served: 1809-1817

2008:
• 5 James Monroe Years Served: 1817-1825
• 6 John Quincy Adams Years Served: 1825-1829
• 7 Andrew Jackson Years Served: 1829-1837
• 8 Martin Van Buren Years Served: 1837-1841

2009:
• 9 William Henry Harrison Years Served: 1841
• 10 John Tyler Years Served: 1841-1845
• 11 James K. Polk Years Served: 1845-1849
• 12 Zachary Taylor Years Served: 1849-1850

2010:
• 13 Millard Fillmore Years Served: 1850-1853
• 14 Franklin Pierce Years Served: 1853-1857
• 15 James Buchanan Years Served: 1857-1861
• 16 Abraham Lincoln Years Served: 1861-1865

2011:
• 17 Andrew Johnson Years Served: 1865-1869
• 18 Ulysses S. Grant Years Served: 1869-1877
• 19 Rutherford B. Hayes Years Served: 1877-1881
• 20 James A. Garfield Years Served: 1881

2012:
• 21 Chester A. Arthur Years Served: 1881-1885
• 22 Grover Cleveland Years Served: 1885-1889
• 23 Benjamin Harrison Years Served: 1889-1893
• 24 Grover Cleveland Years Served: 1893-1897

2013:
• 25 William McKinley Years Served: 1897-1901
• 26 Theodore Roosevelt Years Served: 1901-1909
• 27 William H. Taft Years Served: 1909-1913
• 28 Woodrow Wilson Years Served: 1913-1921

2014:
29 Warren Harding Years Served: 1921-1923
• 30 Calvin Coolidge Years Served: 1923-1929
• 31 Herbert Hoover Years Served: 1929-1933
• 32 Franklin Delano Roosevelt Years Served: 1933-1945

2015:
• 33 Harry S Truman Years Served: 1945-1953
• 34 Dwight David Eisenhower Years Served: 1953-1961
• 35 John F. Kennedy Years Served: 1961-1963
• 36 Lyndon B. Johnson Years Served: 1963-1969

2016:
• 37 Richard M. Nixon Years Served: 1969-1974
• 38 Gerald R. Ford Years Served: 1974-1977
If you would like to recommend this article to everyone, please click the button:
Number of pages: < Previous | 1 | 2 | 3 | 4 | 5 |
Numismatic Corner | US Coins Page | Coin Photo Galleries page | Silver Reales page | MetalDetectingWorld Home
(Sources: Encyclopedia Of U.S. Coins by Mort Reed and The Official Red Book of United States Coins by R.S. Yeoman.)