Trip to Siberia, Russia
City of Irkutsk - History and Economy
The Russian settlers, headed by a Tobolsk Cossack detachment, came to Lake Baikal in the summer of 1643. In 1646, another Cossack detachment came down the Yenisei and Angara Rivers from Yenisei Fortress to Baikal.
The Cossacks reached the Upper Angara River, where they founded the Upper Angara Fortress in 1646. A year later, another detachment came to search for silver lodes. It was followed by another detachment, its men built the Barguzin Fortress on Baikal in 1648.
The city of Irkutsk, capital of Irkutsk Region, population 594,400 (2003), is located 70 kilometers North of the Lake Baikal and situated on the Angara River where there is a large hydroelectric station near the city.
Image of "Main Drag" in Irkutsk (an old postcard)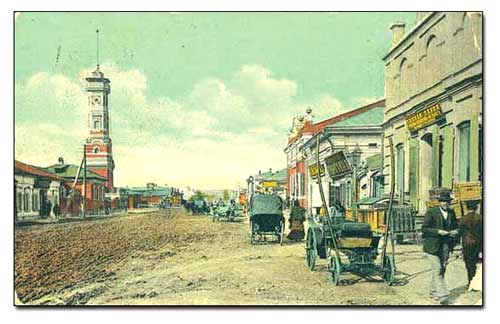 Irkutsk was founded in 1650 as the main Russian fort east of the Ural Mountains. Built as a base for further colonization of the Far East, Irkutsk was a starting point for all expeditions to Kamchatka and Alaska. Coal-mining industry is prevailing in the region. Manufactured goods include iron, steel, aircraft, motor vehicles, textiles, and machine tools. Irkutsk's industrial development began with the arrival of the Trans-Siberian Railway in 1898.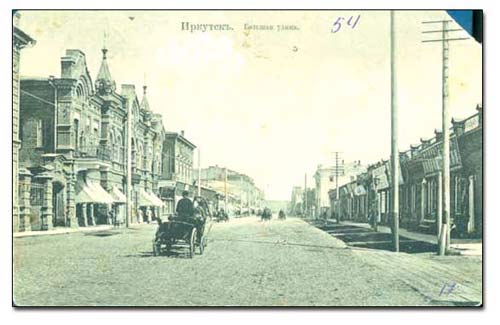 Irkutsk became a town in 1686 and a capital of East Siberia in 1822. It became the main trade post for Yakut, Buryats, Mongol, and Chinese merchants in the late 1600s. In the 18th century, the city became a place of banishment for political dissidents and criminals.
From the 1850s, Irkutsk was the base for the Russian advancement into the Far East territories, and it experienced a development boom with the discovery of the Lena River gold-fields in the 1880s. The city was extensively damaged by fire in 1879. During the Russian Civil War which began after the October Socialist Revolution of 1917, Irkutsk was a White Army stronghold, and fell to the Bolsheviks only in 1920. It underwent rapid industrialization during the 1930s.
"Lake Baikal" page | "Trip To Siberia" page | MetalDetectingWorld Home