The quest for the American Revolutionary War relics has been the first priority for relic hunters in the North-East USA for years. Any Rev War period items such as clothing, weapons, accouterments, tools, and living accessories, associated with the officer and enlisted man in the field are highly desirable collectibles. The Rev War military uniform buttons are not an exception.
I was only a beginner relic hunter when I found this USA button of the Continental Army circa 1777. At that time, my friend and I were relic hunting the slopes of the Hudson River's high bank on the side of Rensselaer County, New York. We were randomly metal detecting the forest floor when I hit the "hot" spot.
Along with this button, I recovered a massive bronze signet ring and an amber brooch (you can see their images in Revolutionary War Relics photo gallery). It is funny to remember it now, but, being a coinshooter and having no knowledge of Rev War artifacts at that time, I did not know what a great button I discovered until my friend looked at my relic find and identified it!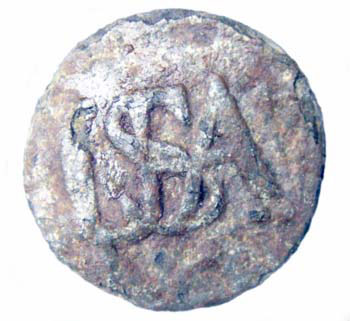 Specifications:
Category: Continental Army, General Service;
Material: cast pewter;
Type: 1-piece button;
Design: reeded border and a monogram of the initials USA;
Diameter = 19 mm;
Rarity: the most common marked American soldier's button of the period;
More images of Revolutionary War buttons can be seen in Rev War Buttons photo gallery.