One of My Best Metal Detecting and Relic Hunting Finds
Scythian Bronze Armor-Piercing Trilobated Arrowhead, ca 600-300 B.C.
This was certainly one of my breathtaking discoveries! I had never imagined that I would cross the B.C. time barrier with my metal detecting finds before I dug up this amazing relic.
The arrowhead was unearthed at the "fruitful" site of a medieval marketplace situated on the riverbank near a small Ukrainian village Antonov where Igor Sikorsky, one of the worlds greatest aviation pioneers, spent his childhood, in the Kiev region.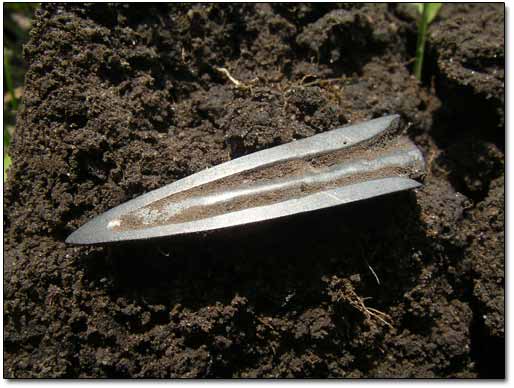 The ancient trilobate (tri-lobed, trilobe, trilobated) armour-piercing arrowhead of the socketed type is made of pewter and bronze alloy, or "white bronze", 1-1/4" (3.5 cm) in length, and still sharp and shiny! It belongs to the Scythian or Scytho-Sarmatian culture. From the beginning of the 8th century B.C. Kimmer, Scyths (Skiffs) and Sack (Sakas) ancient groups made marches eastward to ancient lands of the Front Asia and Siberia.
During the Greco-Scythian historic period, VII B.C. - I A.D., the entire territory of modern Ukraine was inhabited by the Scythian tribes, and its southern part was a Greek colony. This Scytho-Sarmatian arrowhead was found along with other interesting artifacts and coins dated from the millenniums B.C. to Medieval period. You can find my full story about this find here: Crossing the "Before The Christ" Time Barrier!.
This Well-Preserved Relic is at least 2,300 Years Old!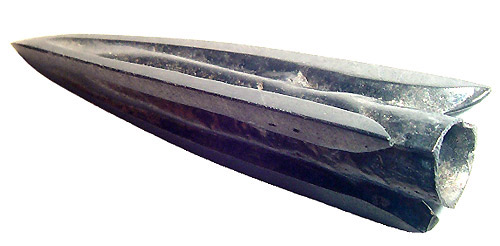 Make a Donation
Please help me stay afloat and create more helpful articles and tutorials for detectorists, and maintain this website - the most informative hobby resource on the web! Since I do not have any steady income, your donation matters to me a lot! Thank you kindly!
Clicking on the donate button will take you to a donation page powered by Donorbox and dedicated to my website (MetalDetectingWorld.com). The donation page is PCI-compliant, secured by SSL/TLS, and has a simple form to fill out. Donorbox does not store any card or bank data. Credit card information is encrypted and tokenized by the Stripe payment processor.
Donate
By helping me keep this website alive and growing, you will sure help many detectorists around the world as well!
My Best Finds page | MetalDetectingWorld Home
If you would like to follow me on Twitter, please press a button:
Follow @metal_detect
If you have something to say about this find, please share it with me on my "Metal Detecting World" page available on Facebook, Google+, Twitter, Pinterest, Tumblr and Stumbleupon.
You can also find my personal profile on Google+, Facebook, Pinterest, LinkedIn, Tumblr, Reddit and Delicious.