Rust Removal with Electrolysis - A Detailed Illustrated Tutorial, page 26
4. The Process: Final Session - Derusting a Second Half of Iron Artifact
Now the artifact is ready for the final phase of the process - de-rusting the artifact's second half. It is not necessary to wind the cathode wire around the de-rusted first half - the axehead's eye in this case, because a good metal-to-metal contact between a power clamp and the axehead's bare-metal surface could be established anywhere you attach the clamp.
However, winding the cathode wire around the axehead's eye would increase the contacting area; thus, preventing the power clamp (or alligator clip) from burning when the current is high. In other words, the cathode wire will deal with the artifact's electrical resistance instead of the power clamp connector which has rather a small contact area.
Cathode Wire Is Wound through Clean Axehead's Eye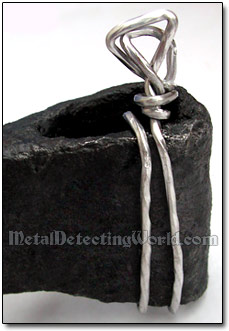 Before immersing the artifact's rusty half into the electrolyte, do not forget to grind the new rust (if any) off the two former connecting points at the rusty half, which will provide good contacts with the electrolyte this time.
Connect the power clamp to the cathode wire, make sure your electrolytic setup is ready, and turn the power on. If the electrolysis is manifesting itself through vigorous bubbling of hydrogen gas off the part being de-rusted, the final phase of rust removal has started successfully.
Electrolytic Derusting of Axe Blade Has Just Began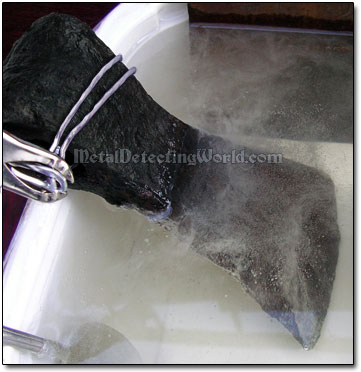 If you do not see any bubbling, visit the "Starting the Process" section on page 22.
It may take a few sessions of electrolysis to de-rust the relic's second half completely. After each session, treat the relic's second half as shown in steps 1 through 4 on a previous page.
Number of pages: < Previous | 1 | 2 | 3 | 4 | 5 | 6 | 7 | 8 | 9 | 10 | 11 | 12 | 13 | 14 | 15 |

| 16 | 17 | 18 | 19 | 20 | 21 | 22 | 23 | 24 | 25 | 26 | 27 | 28 | 29 | 30 |

| 31 | 32 | 33 | 34 | 35 | 36 | 37 | 38 | 39 | 40 | 41 | Next >