My Best Cache Hunting Finds
Huge Hoard Of Hammered Silver Coins, ca. 16th Century
This was certainly an amazing coin cache discovery! This time, the coin hoard was bigger than ever - 2,700 Early-Russian silver hammered coins, usually referred to as the "Wire Money"! The oldest of them were of a "Denga" denomination coined at the Novgorod mint during the reign of the Russian Czars Ivan III Vasiljevich (1462-1505) and Vasiliy III Ivanovich (1505-1533), and before the Monetary Reform of 1533-1538.
Silver Hammered Denga, Czar Ivan III Vasilievich, circa 1479-1490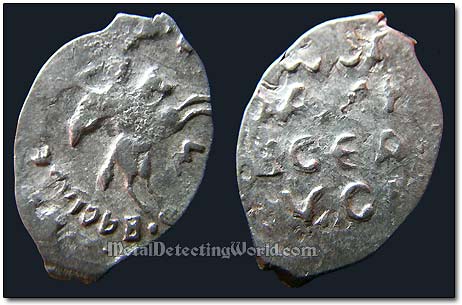 The rest, about 99%, of the silver hammered coins, also called "Fish Scales" among treasure hunters and coin collectors in Eastern Europe, were "Kopecks" and "Dengas" produced after the monetary reform of 1535-1538 in Russia. The new coin face-value "Kopek" was established during the reform carried out by the government of Elena Glinskaja, a mother of the Czar Ivan IV Vasiljevich (Ivan The Terrible) who reigned from 1533 to 1584 (see Brief Numismatic History of Russian Wire Money).
The coins in the cache were minted at three Russian Mints which operated in the cities of Moscow, Novgorod, and Pskov. On the picture below, a 2009 10 Kopeks coin is placed next to the hammereds from the cache to show that the modern coin still bears an identical symbol of St. George slaying the dragon with spare.
Hammered Silver Kopecks of Ivan The Terrible Next to Modern 10 Kopecks Coin
During the excavation of the hoard, it took us 16 hours to retrieve all the coins from the ground. No matter how many coin hoards you find, every time a discovery like this makes you wonder whether this is happening in reality or it is just a fantasy. Certainly it was a successful beginning for the new metal detecting season which we started in Eastern Europe.
All Coins from the Cache
You can read all details about this incredible find, made in 2009, in my story - Discovery of A Huge Hoard of Hammered Silver Coins.
You might want to check out my earlier story on another Discovery of a Cache of Hammered Silver Wire Coins, which happened in 2004.
You might want to check out my Photo Gallery of Russian Medieval Hammered Coins - Wire Money for detailed descriptions of the wire coins' obverses and reverses, and to see the exact cyrillic letters inscribed in the wire coins' legends.
My Best Finds page | MetalDetectingWorld Home