World War II - Eastern Front - Brief History
Don, Volga, and Caucasus: Summer 1942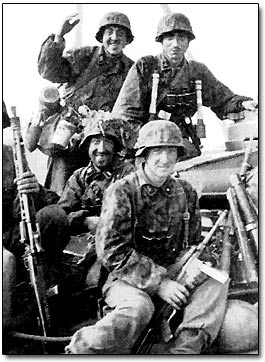 Although plans were made to attack Moscow again, on 28 June 1942, the offensive reopened in a different direction. Army Group South anchored the front with the Battle of Voronezh and then followed the Don river southeastwards.
The grand plan was to secure the Don and Volga first and then drive into the Caucasus towards the oil fields.
Rostov was recaptured on 24 July when 1st Panzer Army joined in, and then that group drove south towards Maikop.
Operation Shamil was executed, a plan whereby a group of Brandenburger commandos dressed up as Soviet NKVD troops to destabilize Maikop's defenses and allow the 1st Panzer Army to enter the oil town with little opposition.
Meanwhile, 6th Army was driving towards Stalingrad. A leap across the Don brought German troops to the Volga river on August 23 but for the next three months the Wehrmacht would be fighting the Battle of Stalingrad street-by-street.
Stalingrad: Winter 1942
While the German 6th Army and 4th Panzer Army had been fighting their way into Stalingrad, Soviet armies had congregated on either side of the city, specifically into the Don river bridgeheads that the Romanians had been unable to reduce. Russians struck on 19 November 1942.
Russian Tank Division Before Attack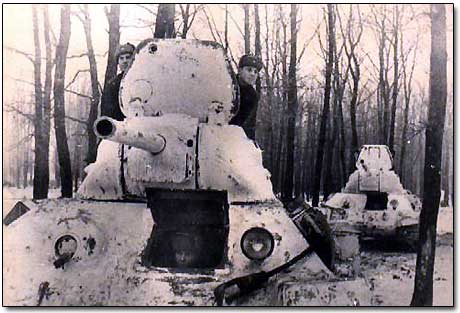 Fighting on Stalingrad Streets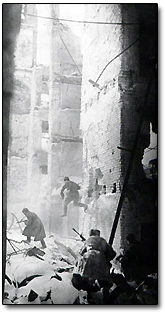 In Operation Uranus, two Soviet fronts punched through the Romanians and converged at Kalach on 23 November, trapping 300,000 Wehrmacht troops behind them.
The Germans rushed to transfer troops to Russia for a desperate attempt to relieve Stalingrad, but the offensive could not get going until 12 December, by which time the 6th Army in Stalingrad was starving and too weak to break out towards it.
Hitler refused the now-surrounded German troops permission to surrender. But German Army lacked supplies of winter uniforms, food, and medicine, with temperatures reaching 24 degrees below freezing.
On 31 January 1943, the German commander Field Marshall Paulus disobeyed Hitler's orders, and the 90,000 survivors of the 300,000-man 6th Army surrendered. This surrender marked the German army's greatest defeat.
By that time the Hungarian 2nd Army had also been wiped out. The Soviets advanced from the Don river 500 km (300 miles) to the west of Stalingrad, marching through Kursk (retaken on 8 February 1943) and Kharkov (retaken 16 February 1943).
Number of pages: < Previous | 1 | 2 | 3 | 4 | 5 | 6 | 7 | 8 | 9 | Next >
WW2 Military Relic Hunting page | MetalDetectingWorld Home