One of My Best Relic Hunting Finds in New York State
Silver Love Charm, ca. 1786
I recovered this fascinating post Revolutionary War relic at the remote and hard-to-get-to location - a cellar hole situated on top of the high hill, while relic hunting in the Taconic Mountains, Upstate New York.
The metal detecting site produced a variety of coins, ranging from the early Large Cents to Indian Head Pennies, and a few interesting relics including a New York State Militia belt buckle found by my metal detecting buddy Tiger Ned. This pleasant silver love charm, the oldest find of all, won the title "the best find" for its personalized and romantic essence.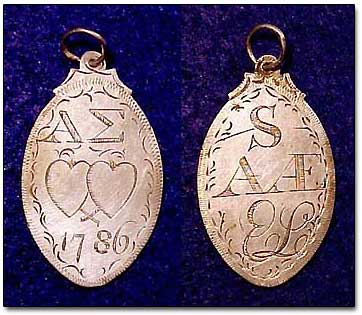 Specifications:
Dimensions: 1-1/2 inch x 7/8 inch
Construction: Silver, Silver Ring. Engraved Letters, Date, and Ornate Desings.
More Images of Revolutionary and post Revolutionary War relics could be seen in Relics section.
Make a Donation
Please help me stay afloat and create more helpful articles and tutorials for detectorists, and maintain this website - the most informative hobby resource on the web! Since I do not have any steady income, your donation matters to me a lot! Thank you kindly!
Clicking on the donate button will take you to a donation page powered by Donorbox and dedicated to my website (MetalDetectingWorld.com). The donation page is PCI-compliant, secured by SSL/TLS, and has a simple form to fill out. Donorbox does not store any card or bank data. Credit card information is encrypted and tokenized by the Stripe payment processor.
Donate
By helping me keep this website alive and growing, you will sure help many detectorists around the world as well!
My Best Finds page | MetalDetectingWorld Home
If you would like to follow me on Twitter, please press a button:
Follow @metal_detect
If you have something to say about this find, please share it with me on my "Metal Detecting World" page available on Facebook, Google+, Twitter, Pinterest, Tumblr and Stumbleupon.
You can also find my personal profile on Google+, Facebook, Pinterest, LinkedIn, Tumblr, Reddit and Delicious.