My Best Metal Detecting & Relic Hunting Finds
Silver Love Charm, ca. 1786 - Relic Hunting Best Find
I recovered this fascinating post Revolutionary War relic at the remote and hard-to-get-to location - a cellar hole situated on top of the high hill, while relic hunting in the Taconic Mountains, Upstate New York.
The site produced a variety of coins, ranging from the early Large Cents to Indian Head Pennies, and a few interesting relics including a New York State Militia belt buckle found by my metal detecting buddy Tiger Ned. This pleasant silver love charm, the oldest find of all, won the title "the best find" for its personalized and romantic essence.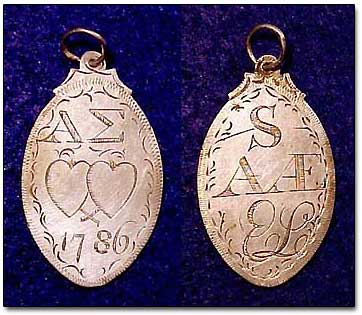 Dimensions: 1-1/2 inch x 7/8 inch
Construction: Silver, Silver Ring. Engraved Letters, Date, and Ornate Desings.
More Images of Revolutionary and post Revolutionary War relics could be seen in Relics section.
My Best Finds page | MetalDetectingWorld Home