My Best Relic Hunting Finds in USA
Common Militia Waist Belt Plate, circa 1832-1845, Recovered with Metal Detector
This remarkable relic was recovered with the Minelab Explorer metal detector at the site of the colonial cellar hole during my relic hunting in the Western Rensselaer County, Upstate New york, USA. Littered with iron junk, the entire area around the cellar hole of a large size was covered with fallen trees and dense vegetation, thus, making metal detecting a serious challenge. It took me a few visits to the site to recover as many relics and coins as possible. A few military uniform buttons from the were dug up as well.
I discovered the Common Militia Belt Plate on my last visit, actually when I was leaving the site, in the middle of the dirt road. I was very exhausted at end of the day but decided not to turn my Minelab Explorer metal detector off until I would make some distance between myself and the cellar hole. When I received a shallow signal, I did not expect to find anything old but was pleasantly surprised to recover an artifact that would be admired by any relic collector.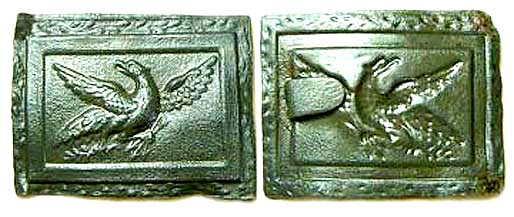 Dimensions: 55 x 72 mm
Construction: Guild die-struck rolled brass plate with applied brass tongue and belt loop bar. Iron keepers.
Remarks: A predecessor of the panel plates, arrows pointing down generally dates the die sinking design to 1832-1836. This pattern enjoyed widespread use. Circa 1840 prints by Huddy and Duval show similar stock pattern plates worn by independent companies from Philadelphia and New York.
More images of post Revolutionary War, War of 1812, and Civil War relics can be seen in Relics section.
My Best Finds page | Best Finds of Other Treasure Hunters Worldwide | MetalDetectingWorld Home
Source: George Kegerreis