One of My Best Cache Hunting Finds in Upstate New York
My First Coin Cache Discovery in USA
This was my first coin cache find I made in the 1990s. At that time, I was still learning my White's Spectrum XLT metal detector which had just replaced the old good Garrett Master Hunter CX-III in my treasure hunting arsenal.
This photo depicts a moment of my coin cache discovery in Ulster County, New York with my new metal detector.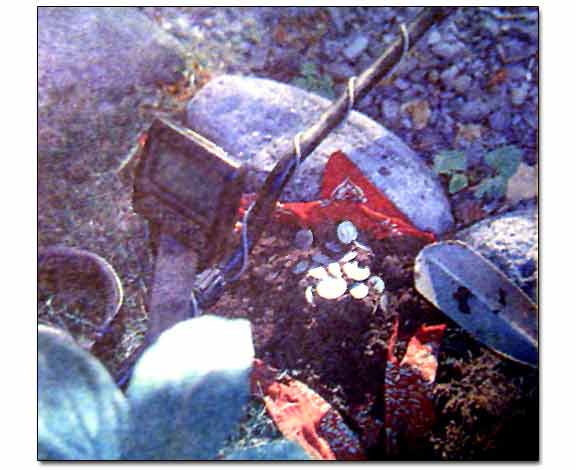 There were 17 coins in the cache, including a couple of Half Dollars, a Hard Times token, and a variety of Barber and Mercury dimes, along with a few silver quarters. My friend David and I spent a while coin shooting at this property, and the total number of coins we recovered at was over 200, counting all types of coins dated between 1807 and 1964. Also a nice variety of buttons and relics was dug up.
Now I am glad that, at least, I had a 35 mm automatic camera with me on that day and captured the moment of my first coin cache discovery! In the following years of metal detecting, I found a number of various coin caches and would never forget the thrill of finding each one of them, but discovering the first one will always remain as something special in my memory!
Make a Donation
Please help me stay afloat and create more helpful articles and tutorials for detectorists, and maintain this website - the most informative hobby resource on the web! Since I do not have any steady income, your donation matters to me a lot! Thank you kindly!
Clicking on the donate button will take you to a donation page powered by Donorbox and dedicated to my website (MetalDetectingWorld.com). The donation page is PCI-compliant, secured by SSL/TLS, and has a simple form to fill out. Donorbox does not store any card or bank data. Credit card information is encrypted and tokenized by the Stripe payment processor.
Donate
By helping me keep this website alive and growing, you will sure help many detectorists around the world as well!
You can read my short story on this discovery on this page: Upstate New York Coin Cache Discovery.
My Best Finds page | MetalDetectingWorld Home
If you would like to follow me on Twitter, please press a button:
Follow @metal_detect
If you have something to say about this find, please share it with me on my "Metal Detecting World" page available on Facebook, Google+, Twitter, Pinterest, Tumblr and Stumbleupon.
You can also find my personal profile on Google+, Facebook, Pinterest, LinkedIn, Tumblr, Reddit and Delicious.