A Front Page Article on Dave's Unique Relic Find
Mablethorpe Leader Newspaper Informs About A Carolingian Brooch of Medieval Era
Shown here is an article - "Dave's Brooch Discovery Is First of Its Kind in UK", published on a front page of Mablethorpe Leader newspaper in February 13, 2013. The article depicts Dave Lascelles' unique relic find - a Carolingian brooch, circa 9th century, which David recovered while metal detecting in the Horncastle area, Lincolnshire, UK, back in 1997.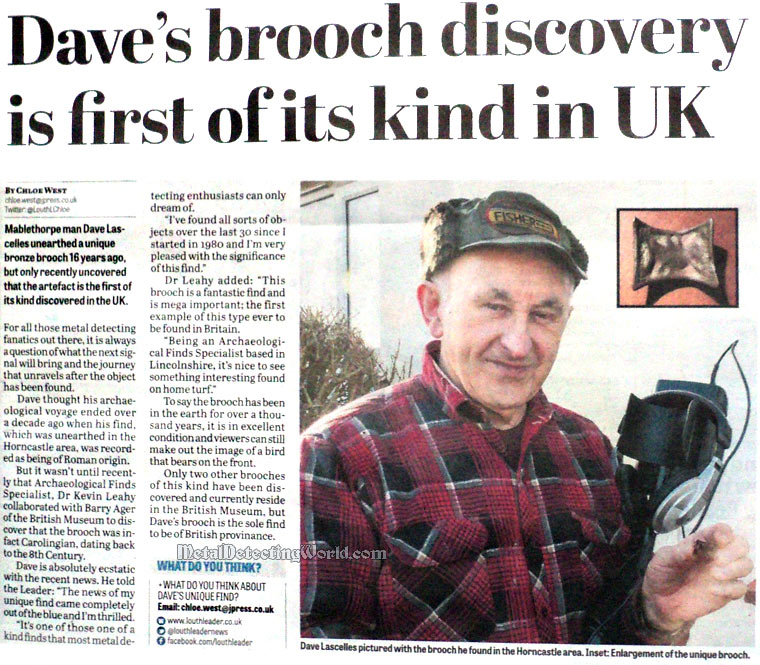 Back to page 8 of "Dave' Metal Detecting Finds in Lincolnshire" section
And here is what the article by Chloe West says:
"Mablethorpe man Dave Lescelles unearthed a unique bronze brooch 16 years ago, but only recently uncovered that the artefact is the first of its kind discovered in the UK.
For all those metal detecting fanatics out there, it is always a question of what the next signal will bring and the journey that unravels after the object has been found.
Dave thought his archaeological voyage ended over a decade ago when his find, which was unearthed in the Horncastle area, was recorded as being of Roman origin. But it wasn't until recently that Archaeological Finds Specialist, Dr Kevin Leahy, collaborated with Barry Ager of the British Museum to discover that the brooch was in fact Carolingian, dating back to the 8th Century.
Dave is absolutely ecstatic with the recent news. He told the Leader: "The news of my unique find came completely out of the blue and I'm thrilled. "It's one of those one of a kind finds that most metal detecting enthusiasts can only dream of.
"I've found all sorts of objects over the last 30 years since I started in 1980 and I'm very pleased with the significance of this find."
Dr Leahy added: "This brooch is a fantastic find and is mega important; the first example of this type ever to be found in Britain. "Being an Archaeological Finds Specialist based in Lincolnshire, it's nice to see something interesting found on home turf."
To say the brooch has been in the earth for over a thousand years, it is in excellent condition and viewers can still make out the image of a bird that bears on the front.
Only two other brooches of this kind have been discovered and currently reside in the British Museum, but Dave's brooch is the sole find to be of British provenance."
Back to page 8 of "Dave' Metal Detecting Finds in Lincolnshire" section