How To Make Metal Detector Headphone Operation Wireless - Tutorial, page 3
Sennheiser Digital Wireless Transmitter TR-160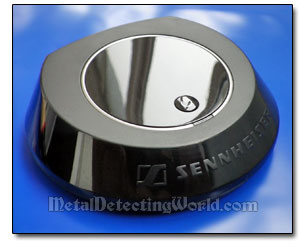 The Sennheiser RS 160 digital wireless headphone system consists of two devices - the wireless headphones HDR-160 and a digital transmitter TR-160. The TR 160 transmitter features the Kleer wireless audio transmission technology and has a multi-receiver capability enabling up to 4 people to listen to the same sound source. Being a lightweight (56 g (without batteries)) and small-sized (8.7 cm x 9.7 cm x 2.7 cm (3.4" x 3.8" x 1")), the TR-160 is small enough to be compactly attached to a metal detector.
Specifications for Sennheiser Digital Wireless Transmitter TR-160:
• Audio connection: 1/8" (3.5 mm) stereo jack socket
• Power consumption (standby mode): < 0.3 W
• Power supply: 5 V , 500 mA
• 2 AA size batteries, 1.5 V or 2 AA size NiMH rechargeable batteries, 1.2 V, at least 1,300 mAh
• Transmission power < 2.5 mW
• Operating time with batteries approx. 120 hours
• Weight (w/o batteries) approx. 56 g (2 oz)
• Dimensions 8.7 cm x 9.7 cm x 2.7 cm (3.4" x 3.8" x 1")
The transmitter conveniently operates on batteries of the same AA type as most metal detectors. And it is just incredible that the transmitter can continuously run for 120 hours (!) on just two AA batteries (alkaline or NiMH rechargeables). It gives a big advantage to those treasure hunters who frequently make long-term metal detecting trips to remote areas. The NiMH batteries can be charged, without being taken out, using an AC/DC Wall Charger (SSA-4P 5050F) that is included in a package.
Wireless Transmitter TR-160 Uses Two AA Batteries (Alkalines or Rechargeables)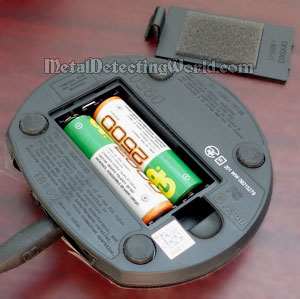 On its control panel, the transmitter has a DC jack for the battery charger, a jack for a transmitter-to-detector connecting cable and a volume control knob. During metal detecting, the volume control should NOT be set to MAX (as shown on a picture below).
Control Panel of Wireless Transmitter TR-160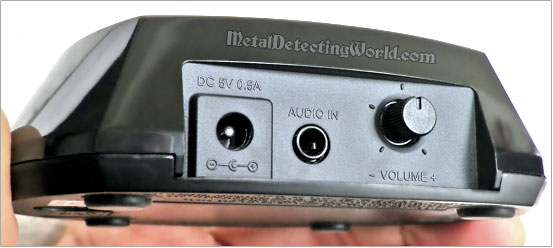 So, once you inserted the batteries into both the headphones and the transmitter, you can charge them all simultaneously without taking them out. Besides four easy removable plug-adapters for multi-country use, the SSA-4P 5050F Wall Charger comes with a DC cable (4.0 mm DC jack socket to 2 x 4.0 mm DC plug) that connects the charger to the headphones and transmitter at the same time.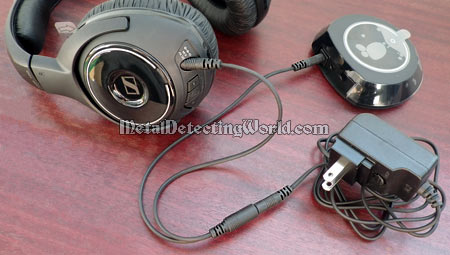 A Multi-Function button is located on the transmitter's top and allows a user to do the following: 1) switch the transmitter on/off and to Standby Mode, 2) set the transmitter to Multi-User operation, and 3) associate the transmitter with headphones. A circumferential Multi-Function LED is also located on the transmitter's top and indicates the following: 1) the rechargeable batteries are almost drained, 2) the rechargeable batteries are being charged, 3) the rechargeable batteries are fully charged, 4) the headphones are in enrollment mode (searching for a transmitter to pair with), 5) the headphones are in association mode (exchanging device information with the transmitter), and 6) the headphones receive an audio signal.
Because the transmitter was designed primarily for indoor usage, it must be fully protected not only from moisture, but also from dust and accidental shocks. The way to make the transmitter waterproof, dustproof and shockproof is shown and described on the following pages of this tutorial.
Number of pages: < Previous | 1 | 2 | 3 | 4 | 5 | 6 | 7 | 8 | 9 | 10 | 11 | Next >