Whites PRL-1 Reviews, Price and Specifications
Industrial Metal Detector
Retail Price: $399.95 (£ 250.00, 285.00 €)
Number of Reviews: 0
Be the first to review this item
Email this page to a friend.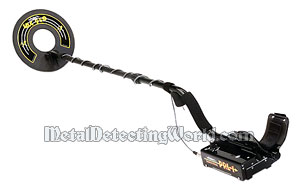 Specifications:
The PRL-1 is an industrial metal detector that finds property stake pins, valves, sprinkler heads, shallow pipes and cables. It is a very simple metal detector to use, and can be adjusted to detect either all metals or discriminate out junk. Waterproof search coil.
The time saving tool for the job site. Construction and maintenance work is hectic enough without having to drop everything and dig to find some buried metal pin or valve or pipe hiding in the dirt. Just grab the PRL-1 and listen for the beep.
• Built-in Automatic Ground Exclusion
• AA Batteries and Holder for up to 80 hrs. of battery life.
• 1/4" headphone jack