Lorenz Deepmax X3 Reviews, Price and Specifications
Deep Seeking Metal Detector
Retail Price: $6,995.00
Number of Reviews: 3
Avg. Rating (5.0 Stars)

Email to a friend.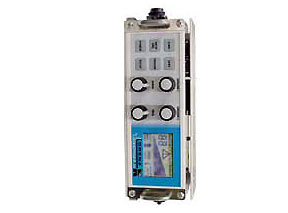 Specifications:
Comes with 2 search coils: 14 inch (35cm) double D round coil, 40x40 (1x1 meter frame coil)
Telescopic S-shaped shaft assembly for round coil
2 different ground excluding circuits eliminate strongly mineralized soils for worldwide operation
2 different target identification facilities
LD electronics unit
Carrying Case
Rechargeable external battery
Shoulder-belt strap
Charger with range input
Universal AC wall Charger
Headphones
Data Logger Ready
High sensitive to all kinds of metal
Stable operation on mineralized ground or salt water with Pulse -Ground Balancing System
Reliable/ Simple operation
Exact pinpointing with large coils
Easy and effective detection of large areas
Rugged mechanical construction
a variety of search coil are available for different detection purposes
Automatic adaptation of different coil sizes to the electronics
Small unwanted metal objects can either be identified or eliminated
Fast audio response speed with voltage controlled oscillator (VCO)
Logarithmic audio response for easy pinpointing
Battery check with meter and audio alarm tone
Calibrated static (Non-motion) target classification with conductivity meter reading
Ferrous/non-ferrous identification
Stable static response (acoustical and visual)
Waterproof search coils
Interchangeable rechargeable battery pack
Charge electronics with interchangeable AC-plug for world wide operation
Frequency control for interference elimination
Automatic push-button retuning facility
different delay settings to eliminate small objects or for easy pinpointing
Detection depths of up to 12m
Single or dual induction balanced or differential coil designs can be used
Performance of Deep Max X3
Bernard in FRANCE -

I have had this detector for two years, and it has satisfied me with unexpectable treasure discoveries.
Nov 15, 2009
61 people found Bernard 's review helpful.
It Works
Thomas Ruff in Ne-Isenburg,Germany -

At the moment the best detector for deepseeking that really works.
Oct 29, 2008
48 people found Thomas Ruff's review helpful.
Serious Hunter
Jack Ehrhardt in kingman az usa -

Greetings Reviewers! I have owned this unit for 7 months, used it a dozen times from the Pacific Ocean to the deserts of Arizona. The most reassuring element of this unit is the superior quality of its every part. I bought this machine for meteorite hunting. Well guess what, when my wife and I get to our search site , she puts the comforatable back pack on, fires it up, steps into the center of the 4' coil and I hardly have time to tell her to turn her radio on so I can find her... before she is gone... This detector is truly user friendly. I keep the connectors covered when not in use. The battery easily lasts all day, and easily charged over night. The hand coil is comforatable and has a good feel. You know that you are proffesional grade searching when you swing this unit. My weakness is not knowing what the heck the technical terms mean. We have not found any great finds yet. I am a regular middle class worker that believes the right equipment is important. I live in a solar home and commute to work in a rebuilt 45 mile to a gallon Geo Metro... Smart decisions for each application.
Jan 21, 2008
112 people found Jack Ehrhardt's review helpful.