Viking VK-40 Reviews, Price and Specifications
All-Purpose Land Metal Detector
Retail Price: £209 ($420)
Number of Reviews: 2
Avg. Rating (5.0 Stars)

Email to a friend.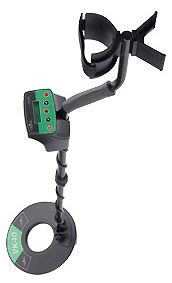 Specifications:
Waterproof 24 cm (9.5") Concentric Search Head
Total digital setup
Scroll easily to your required setting
Good clear numerical target display
Operates well on land and salt beaches
Detection Modes: Motion / All Metal / Non Motion
16 x 2 LCD with Target ID
Lightweight
Operation from single PP3 Alkaline Battery
2 Year Warranty
Pinpoint Pushbutton
Membrane Keypad Control
Battery Check
Ironage
Matt Brady in essex harlow uk -

Finds galore get the right land and this detector won't let you down set discrimination at 45 and sensitive at 85 on inland mode and off you go well happy with this detector with a built-in pinpointer great first detector for this price range dig all signals for best results till you learn all the different sounds of different metals on your machine nice one viking built in uk good sound machine for 240 pounds
Feb 04, 2015
6 people found Matt Brady's review helpful.
VK40 Real Value for Money
Hoard Hunter in Surrey , england -

This is a great unit for the cost, much under-rated in my opinion. It outshines the rest in the £200 price bracket including the over hyped Garrett 250 and the fisher F2. Both of which I have used on occasion, I'm glad I chose this over them. I bought this as a backup to my Minelab and have found myself using it a lot. Don't get me wrong, it is not better but cheap enough to leave in your car without losing sleep. On the occasions where I have used them side by side with my nephew, this machine has managed to detect anything that the Minelab did. Simple setup, not over fussy, great depth, beach mode falters a bit on wet sand but it doesn't pretend to be a P.I detector. I think a lot of outlets are giving advice based on profit margin rather than performance. This is an overlooked gem. I also love the C-Scope 990XD, another under-rated brand, that have lost momentum in recent years.
Jan 11, 2015
8 people found Hoard Hunter's review helpful.