Nautilus DMC-IIB Reviews, Price and Specifications
All-Purpose Land Metal Detector
Retail Price: $578.00
Number of Reviews: 1
Avg. Rating (4.0 Stars)

Email to a friend.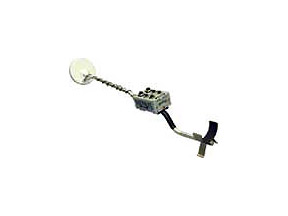 Specifications:
Search modes: Ground Reject Discriminate (motion), Non-Motion Discrimination, Non-Motion Ground Balance
Controls: Discrimination, Ground Balance, Discrimination Sensitivity, Ground Balance Sensitivity, Tuning, Power, and 2X Balance
Audio: Ground reject Discrimination = 950 HZ, Non-Motion Discriminate and Non-Motion Ground Balance = 240 HZ
Operating Frequency: 14 KHZ
Power Output: Variable
Search Heads: 8" Standard, Optional: 6", 10" and 15". Heads are Field interchangeable on same models.
Power Pack: Four (4) 9 volt Transistor Batteries, Optional: Rechargeable Battery System
Physical Configurations: Telescopic Handle in "S" or "U" choice, Grey Enclosure, Padded Headphones.
Weight: 4.3 to 4.5 lbs.
Advanced instrument. Provides greater depth and greater flexibility. Manual coil balance to achieve exceptional depth.
Deep Seeking Relic Machine
Don Bowers in Middletown, Pa USA -

This detector is an all-analog, relatively heavy detector with a steep learning curve. It is used primarily in the southern US for hunting Civil War relics and has a loyal following of users. The main features I find useful are the adjustable TX power and an external means of nulling the RX coil. Even though this detector may be a little overrated, as compared to more modern designs, it is difficult to beat in terms of depth. Please do not buy one! Leave some relics for me!
Jan 17, 2012
9 people found Don Bowers's review helpful.